We've interviewed many privacy experts, chief data officers, security pros and learned so much about the real world. Because we've covered so much, I've curated the most popular infosec quotes so that we can revisit their sage advice and strategies. Let the ideas simmer so that we can enter the stage we're in with a stronger vision and execute our ideas smoothly. Enjoy!
1. Yes to diversity and skill set
2. Stop blaming the users
3. Law and technology need to keep up
4. Embed 'Privacy by Design' from the start
5. Know what business problem you're trying to solve
6. CDOs need to know more than just IT
7. Without IT, organizations can't function
8. Know the business and the algorithm
One of my favorite business talks is from Morgan Stanley's CDO, Jeffrey McMillian. I never had a chance to interview him, but I distilled key points in a talk he gave at the Chief Data Officier Summit on driving growth, improving inefficiencies, and reducing risk, here.
We're Varonis.
We've been keeping the world's most valuable data out of enemy hands since 2005 with our market-leading data security platform.
How it works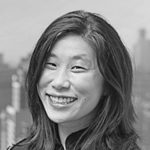 Cindy Ng
Cindy is the host of the Inside Out Security podcast.