In an ever-changing cybersecurity environment, organizations must adapt their security tech stack in order to better secure themselves. As environments get more complicated, open XDR has emerged as an advanced detection and response tool companies should consider.
In this article, we'll go over exactly what open XDR is, what kind of benefits you can expect, and whether the technology is right for your organization.
What is XDR?
XDR stands for eXtended Detection and Response and combines traditional detection and response with network traffic analysis and other telemetry sources from traditional security information and event management (SIEM) systems.
By leveraging telemetry and security data from multiple security sources, including traditional endpoint detection and response tools, organizations are better equipped to detect anomalous behavior and understand how and if a compromise may have happened.
XDR components:
XDR solutions vary by vendor but many leverage analytics and data from a number of back-end and front-end components. These include:
Firewalls (virtual and on-premise)
Network data
Endpoint data
Cloud services
Email systems
Endpoint detection and response (EDR) tools
Cloud access security brokers (CASB)
Every XDR solution is different and if you're in the market for it, you should carefully consider how the tool will integrate with your environment.
What is open XDR?
Open XDR, also referred to as everything XDR, is a vendor-agnostic approach to XDR that integrates a customer's existing security environment, incorporating all their security tools as part of its data collection and analysis. It's dubbed "open" XDR because it takes an open approach, aggregating data from all sources. Traditional, or native, XDR on the other hand, offers an all-in-one platform and does not integrate with third-party vendors.
Open XDR is also referred to as hybrid XDR (to avoid open-source connotations). As a relatively new solution, open XDR varies widely across the different vendors offering the approach.
How does open XDR work?
Open XDR, unlike traditional XDR solutions that only incorporate data from a vendor's native technology stack, is designed to ingest security data from all sources available. These solutions often use AI-powered data analysis to derive the correct security insights.
Open XDR takes advantage of an organization's existing EDR or SIEM tool, aggregating data across on-prem, cloud, and hybrid sources. It's not designed to replace any specific technology and instead sits atop a company's existing security stack, centralizing data collection and analysis.
Five benefits of open XDR: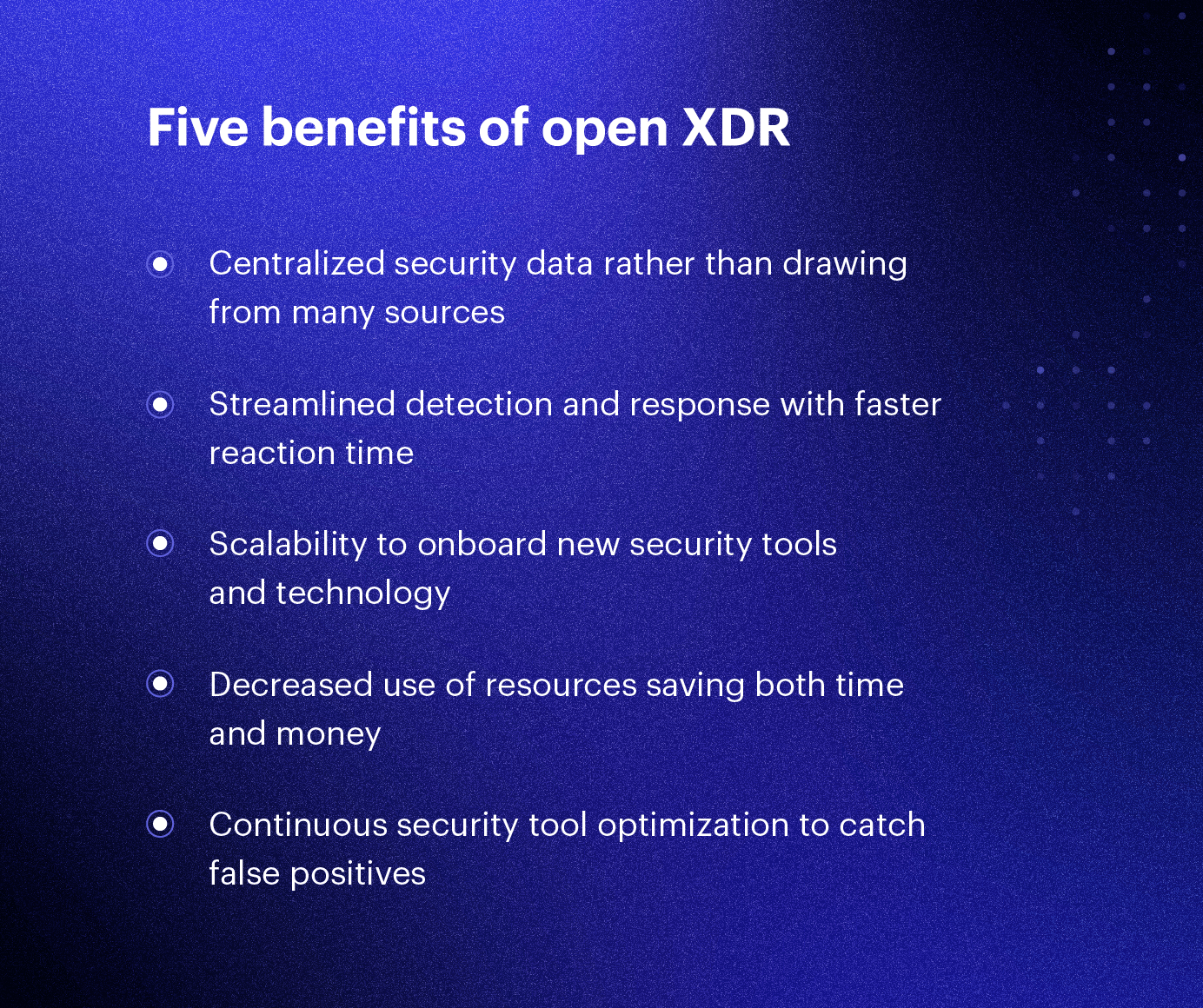 Open XDR solutions are designed to aggregate, streamline, and centralize the data collection process, allowing organizations to save costs and improve their security insights. Here's what organizations can expect.
1. Centralized security data
Open XDR is designed to aggregate data from all security sources, giving organizations a single platform of security data rather than having to manually aggregate data from disparate sources.
2. Streamlined detection and response
Because the information can be found within a single source, security analysts can easily spot a potential intruder or anomalous behavior that may be a sign of a compromise. This makes reaction time much faster, reducing risk exposure and reducing the damage an intrusion can have.
3. Scalability is possible
The nature of open XDR solutions allows you to onboard new security tools and technology, and easily integrate and connect to your open XDR solution. As your security department scales and new technology is introduced, this is a key benefit worth highlighting.
4. Decreased use of resources
An open XDR solution can free up time and money by simplifying the vendor management process. With security analysts having a single point of access via the XDR, a company can save on licenses and seats.
5. Continuous security tool optimization
Because an open XDR solution ingests security data in real-time, you can see whether an existing tool stops collecting security data or is delivering false positives. This helps ensure your technology is working and optimized on a continuous basis.
Open XDR vs. native XDR: which solution is best?
Not all organizations should use an open XDR solution, and the same is true for more traditional, native XDR solutions. Here are a few of the key attributes organizations should consider when choosing between open XDR or native XDR solutions.
When should you choose open XDR?
An open XDR solution is best for an organization with a large security stack and a well-equipped security environment. This can include EDR solutions, an SIEM, and other technology across multiple vendors. In this case, an open XDR solves what's likely a challenge for the department — managing multiple vendors and security data sources.
When should you choose native XDR?
An open XDR solution is only as effective as the data sources feeding it. If your security environment is small or you only have a few large data sources, then a native XDR solution may help expand your current technology stack, introducing new security data sources.
Open XDR vs. EDR and SIEM
You may be trying to choose between an open XDR solution over an EDR or SIEM solution but these options are distinct enough solutions that you may find yourself with an EDR and a SIEM tool before you realize you may also need an open XDR tool.
An EDR or SIEM are different kinds of security sources that help an organization detect whether its network has been compromised. To put it simply, the differences between the two are mostly where the data is coming from (see the chart below for a detailed comparison).
As the name suggests, EDRs collect information from various endpoints on a network, usually in the form of an agent installed on a machine. EDRs take a device-outward approach — collecting, correlating, and potentially alerting on unusual activity originating from a specific device. These triggers could be connections to unusual IP addresses, the device performing strange DNS lookups, access or changes to various registry keys, and new, unexpected, or unusual system calls, processes, or application behavior.
In contrast to traditional antivirus solutions, EDRs use artificial intelligence and machine learning to spot malicious behavior on a particular device. EDRs then use this information for correlation or threat-hunting on other devices running the EDR agent, for example, "Show me any device with this specific running process" or "Show me any device where a process opened a web connection to a particular IP."
However, EDRs often lack the wider context of what is happening on the network, at the perimeter firewalls or web proxies, in Active Directory, or on any device where an agent cannot be installed.
A SIEM on the other hand is a bit more expansive and isn't just limited to endpoints. It collects information from firewalls, servers, logs, and potentially from EDR sources themselves. Many SIEM tools offer log-querying capabilities for threat-hunting, as well as out-of-the-box correlation rules based on the data they are able to collect.
Open XDR works best when it's aggregating data from multiple sources such as an EDR and a SIEM tool. This is why we recommend organizations look into an open XDR solution only after their environment calls for it, rather than starting with open XDR.
Understand what your organization needs from a cybersecurity vendor
As the cybersecurity vendor market continues to mature and serve enterprises with large security departments, new solutions will continue to emerge. As a security leader, it's important for you to know the nuances between these new, advanced technologies and also understand the circumstances needed for you to consider them.
If your organization isn't ready for an open XDR solution today, it's important to possibly incorporate it into your roadmap in the future, especially if you're going to expand your security department with additional security tools.
To learn more about XDR, EDR, and other detection and response tools, check out Varonis' range of solutions.
What you should do now
Below are three ways we can help you begin your journey to reducing data risk at your company:
Schedule a demo session with us, where we can show you around, answer your questions, and help you see if Varonis is right for you.
Download our free report and learn the risks associated with SaaS data exposure.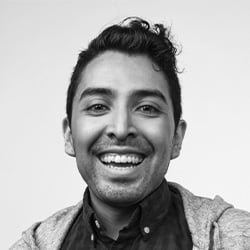 Josue Ledesma
Josue Ledesma is a writer, filmmaker, and content marketer living in New York City. He covers information security, tech and finance, consumer privacy, and B2B digital marketing. You can see his writing portfolio on https://josueledesma.com/Writing-Portfolio