Cybersecurity is a day-to-day operation for many businesses.
A lack of data protection, side effects of a global pandemic, and an increase in exploit sophistication have led to a huge incline in hacked and breached data from sources that are increasingly common in the workplace, such as mobile and IoT (internet of things) devices. On top of this, COVID-19 has ramped up remote workforces, making inroads for cyberattacks.
Recent security research suggests most companies have poor cybersecurity practices in place, making them vulnerable to data loss. To successfully fight against malicious intent, it's imperative that companies make cybersecurity awareness, prevention, and security best practices a part of their culture.
To give you a better idea of the current state of overall security, we've compiled more than 160 cybersecurity statistics for 2022. This will help show the prevalence and need for cybersecurity in all facets of business. These stats include data breaches, hacking stats, different types of cybercrime, industry-specific stats, spending, costs, and information about the cybersecurity career field.
For more in-depth security insights check out our cybersecurity whitepapers.
2022 cybersecurity trends taking shape
Last year saw many disruptions in the world of cybersecurity, even as the COVID-19 pandemic continues to recede. Remote work continues to be a focus for many large companies, causing cloud-based operations to proliferate. Expanding 5G networks connected devices at faster speeds and greater bandwidths. Cryptocurrencies exploded in popularity and are now bought, sold, and traded by individuals on a greater scale than ever before.
This is all to say cybersecurity has never been more important. These industry trends and predictions are expected to take hold in 2022 and beyond:
Cybercrime has many new victims, as the number of global internet users increases each year.

Cyber fatigue grips companies whose teams have given up on proactively defending against attacks.

Cryptocurrencies will be subject to heftier regulation as their adoption grows.

Social media organizations will work to more strictly oversee the sharing of information.

Remote workers will continue to be a target for cybercriminals.

Because of these remote workforces, cloud breaches will increase.

The

cybersecurity skills gap

will remain an issue as more jobs go unfilled.

IoT devices will become more vulnerable to cyberattacks as 5G increases bandwidth to connected devices.
15 influential cybersecurity statistics and facts
The worldwide information security market is growing rapidly. This is due in large part to organizations stepping up their defenses against cyber threats — and a rise in such threats, including within their own companies.
Unfortunately, most cybersecurity breaches are caused by human error. Considering the skills shortage in cybersecurity, this trend isn't likely to subside anytime soon. We've outlined more details to provide you with an idea of the field as a whole, along with the overall impact of cyberattacks.
To learn more about a variety of cybersecurity topics — and to earn CPE credits — sign up for a free security webinar.
Download the cybersecurity stats!
32 critical data breach and hacking statistics
Large-scale, well-publicized breaches are on the rise, suggesting that not only are the number of security breaches going up — they're increasing in severity, as well.
Data breaches expose sensitive information that often leaves compromised users at risk for identity theft, ruins company reputations, and makes the company liable for compliance violations.
See the data breach statistics below to help quantify the effects, motivations, and causes of these damaging attacks.
Noteworthy hacking statistics
Historic data breaches
28

cybercrime statistics by attack type
Cybersecurity issues are diverse and always evolving and new malware and viruses are discovered every day. It's crucial to have a grasp of the most common types of attacks and where they come from in order to guard against future infiltrations.
Some of the most common attacks include phishing, whaling, malware, social engineering, ransomware, and distributed denial of service (DDoS) attacks. Read more below to get a sense of the most common cyberattacks.
Ransomware and malware attack statistics
Phishing attack statistics
Stats on IoT, DDoS, and other attacks
20

cybersecurity compliance and governance statistics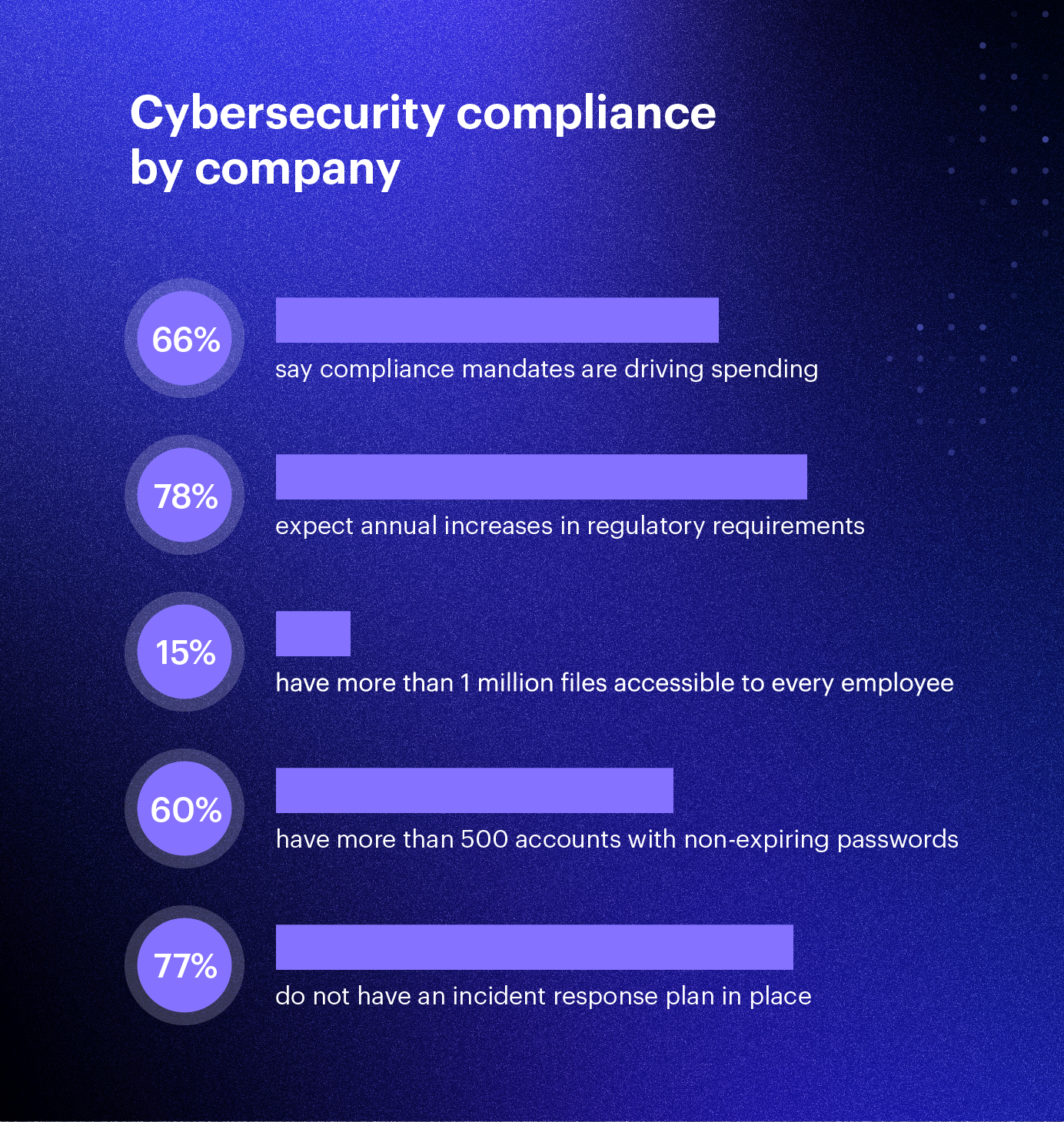 The risks of not securing files are more prevalent and dangerous than ever, especially for companies with a remote workforce. More severe consequences are being enforced as stricter legislation passes in regions across the world defending data privacy. Some stand-outs from recent years include the European Union's 2018 General Data Protection Regulation (GDPR) and California's 2020 California Consumer Privacy Act (CCPA).

Companies should take note of takeaways from the GDPR as more regions around the world are expected to emulate the legislation. It's crucial to properly set file permissions and remove stale data in order to stay secure. Keeping data classification and governance up to par is instrumental to maintaining compliance with data privacy legislation like HIPAA, SOX, ISO 27001, and more.

If you're curious about data security, try a free risk assessment to see where your vulnerabilities lie.
GDPR cybersecurity statistics
21

security spending and cost stats
Average expenditures on cybercrime are increasing dramatically, and costs associated with these crimes can be crippling to companies who have not made cybersecurity a significant part of their budget. Cybersecurity budgeting has been increasing steadily as more executives and decision-makers realize the value and importance of cybersecurity investments.
Take a look at these spending statistics and projections for an idea of where cybersecurity costs stand in 2022.
Cybercrime's total damages make its economic impact larger than the GDP of all but two countries: the U.S. and China. (

Cybersecurity Ventures

)
Cyber insurance prices rose 96 percent in Q3 2021, marking a 204 percent year-over-year increase. (

Marsh

)

When remote work is a factor in causing a data breach, the average cost per breach is $1.07 million higher. (

IBM

)

Artificial intelligence provides the most concrete cost mitigation in data breaches, saving organizations up to $3.81 million per breach. (

IBM

)

Organizations with a zero-trust approach saw average breach costs $1.76 million less than organizations without.

Security services accounted for an estimated 50 percent of cybersecurity budgets in 2020. (

Gartner

)

The average cost of a malware attack on a company is $2.6 million. (

Accenture

)

A data breach can cost a company an average of $1.59 million in lost business. (

IBM

)

The healthcare industry incurs the highest average data breach costs at $7.13 million. (

IBM

)

The total cost of cybercrime for each company increased by 12 percent from $11.7 million in 2017 to $13.0 million in 2018. (

Accenture

)

The average annual security spending per employee increased from $2,337 in 2019 to $2,691 in 2020. (

Deloitte

)

The most expensive component of a cyberattack is information loss, averaging $5.9 million. (

Accenture

)

The average cost per lost or stolen record for an individual is $146. (

IBM

)

The average total cost of a data breach in smaller companies (500 employees or less) decreased from $2.74 million in 2019 to $2.35 million in 2020. (

IBM

)

The average total cost of a breach in very large companies (more than 25,000 employees) decreased from $5.11 million in 2019 to $4.25 million in 2020. (

IBM

)

Half of large enterprises (with over 10,000 employees) are spending $1 million or more annually on security, with 43 percent spending $250,000 to $999,999 and just 7 percent spending under $250,000. (

Cisco

)

From 2019 to 2020, Scandinavia saw the largest increase in total cost of data breaches at 12 percent, while South Africa saw the largest decrease at 7.4 percent. (

IBM

)

The United States has the highest data breach costs in the world, at $8.64 million on average, followed by the Middle East at $6.52 million.

(

IBM

)
In 2019, spending in the cybersecurity industry reached around $40.8 billion USD. (

Statista

)
Cybersecurity cost predictions
Worldwide cybercrime costs will hit $10.5 trillion annually by 2025. (

Cybersecurity Ventures

)
More than 70 percent of security executives believe that their fiscal budgets will decrease in the aftermath of COVID-19. (

Mckinsey

)
19

cybersecurity workforce statistics and predictions

As cyberattacks increase in frequency, so too does the demand for cybersecurity professionals. With these increases, many companies' cybersecurity budgets continue to rise as well. However, the imbalance in skilled cybersecurity workers along with the high demand to fill these positions results in a crippling cybersecurity skills shortage.
Interested in entering the cybersecurity field? Now is the time — job openings and average salaries are only projected to grow throughout the decade.
Looking for cybersecurity talent? It may be necessary to come up with creative cybersecurity skills shortage solutions including outsourcing tasks, starting apprenticeships, and partnering with educational and military institutions to find fresh talent.
Cybersecurity workforce predictions
19

cybersecurity statistics by industry
When it comes to cybersecurity, not all industries are created equal. Industries that store valuable information such as healthcare and finance are usually bigger targets for hackers who want to steal social security numbers, medical records, and other personal data.
This doesn't mean lower-risk industries aren't victims, too. They're often targeted due to the likelihood that they'll have fewer security measures in place and their information will be more easily accessible.
Try a free 30-minute demo to see how Varonis can help keep your organization's name out of data breach headlines.
Healthcare cybersecurity stats
Finance and crypto cybersecurity stats
Government cybersecurity stats
Manufacturing companies account for nearly a quarter of all ransomware attacks, followed by professional services with 17 percent of attacks and government organizations with 13 percent of attacks. (

Security Intelligence

)

58 percent of nation-state cyberattacks originate from Russia. (

Microsoft

)

79 percent of nation-state attackers target government agencies, non-government organizations (NGOs), and think tanks. (

Microsoft

)
Enterprise cybersecurity stats
Smaller organizations (one to 250 employees) have the highest targeted malicious email rate at one in 323. (

Symantec

)

Lifestyle (15 percent) and entertainment (seven percent) are the most frequently-seen categories of malicious apps. (

Symantec

)

Supply chain attacks were up more than 100 percent year-over-year in 2021. (

Symantec

)
12 COVID-19 cybersecurity statistics
COVID-19 made an impact on every industry across the globe, and cyberspace is no exception. The global pandemic paved new avenues for cybercriminals to target victims via healthcare, unemployment, remote work, and more.
Below are a few of the most impactful cybersecurity statistics related to the pandemic.
Cybersecurity statistics FAQs
Below are some of the most frequently asked questions about cybersecurity, with answers supported by cybersecurity statistics and facts.
Q: Why should I care about cybersecurity?
A: Our world runs on data, and the integrity of our systems relies on strong cybersecurity measures to protect them. Weak cybersecurity measures can have a massive impact, but strong cybersecurity tactics can keep your data safe.
Q: What are the types of cyberattacks?
A: The most common cyberattack methods include phishing and spear-phishing, rootkit, SQL injection attacks, DDoS attacks, and malware such as Trojan horse, adware, and spyware.
Q: How many cybersecurity attacks are there per day?
A: On average, hackers attack 26,000 times a day. (Forbes)
Q: How frequent are cyberattacks?
A: Hackers attack every three seconds. (Forbes)
Q: Where can I find more cybersecurity reports?
A: Below are some helpful cybersecurity studies, articles, and resources to deepen your knowledge about the cybersecurity landscape.
Cybercrime is a real threat that should be taken seriously. By assessing your business's cybersecurity risk, making companywide changes, and improving data protection, it's possible to guard your business against most data breaches. Don't become a statistic — the time to change the culture toward improved cybersecurity is now.
What you should do now
Below are three ways we can help you begin your journey to reducing data risk at your company:
Schedule a demo session with us, where we can show you around, answer your questions, and help you see if Varonis is right for you.
Download our free report and learn the risks associated with SaaS data exposure.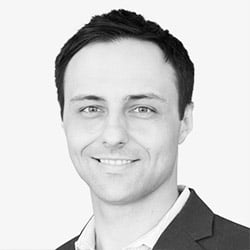 Rob Sobers
Rob Sobers is a software engineer specializing in web security and is the co-author of the book Learn Ruby the Hard Way.