You already know that Data Classification Cloud brings Varonis' best-in-class classification capabilities to the most popular cloud storage apps, including Amazon Web Services (AWS), Google Workspace, Box, and AWS Simple Storage Solution (S3). With Varonis, organizations receive accurate, automated data classification in both SaaS and IaaS platforms.
We're excited to announce that Data Classification Cloud now includes robust file analysis for verifying classification results across your cloud environment.
Consistent data classification across your cloud apps
On top of securing data for brand reputation reasons, organizations need to contend with regulatory requirements, which can have painful consequences if not followed. Rather than relying on disparate classification policies that differ across SaaS apps, organizations need a unified classification schema that can identify sensitive data, no matter where it's stored. Varonis applies consistent classification policies across apps to help security teams easily find and fix sensitive data exposure. Varonis shows you where you have concentrations of sensitive data across your cloud ecosystem and can pair those sensitivity results with permissions so you can see exactly what data is exposed.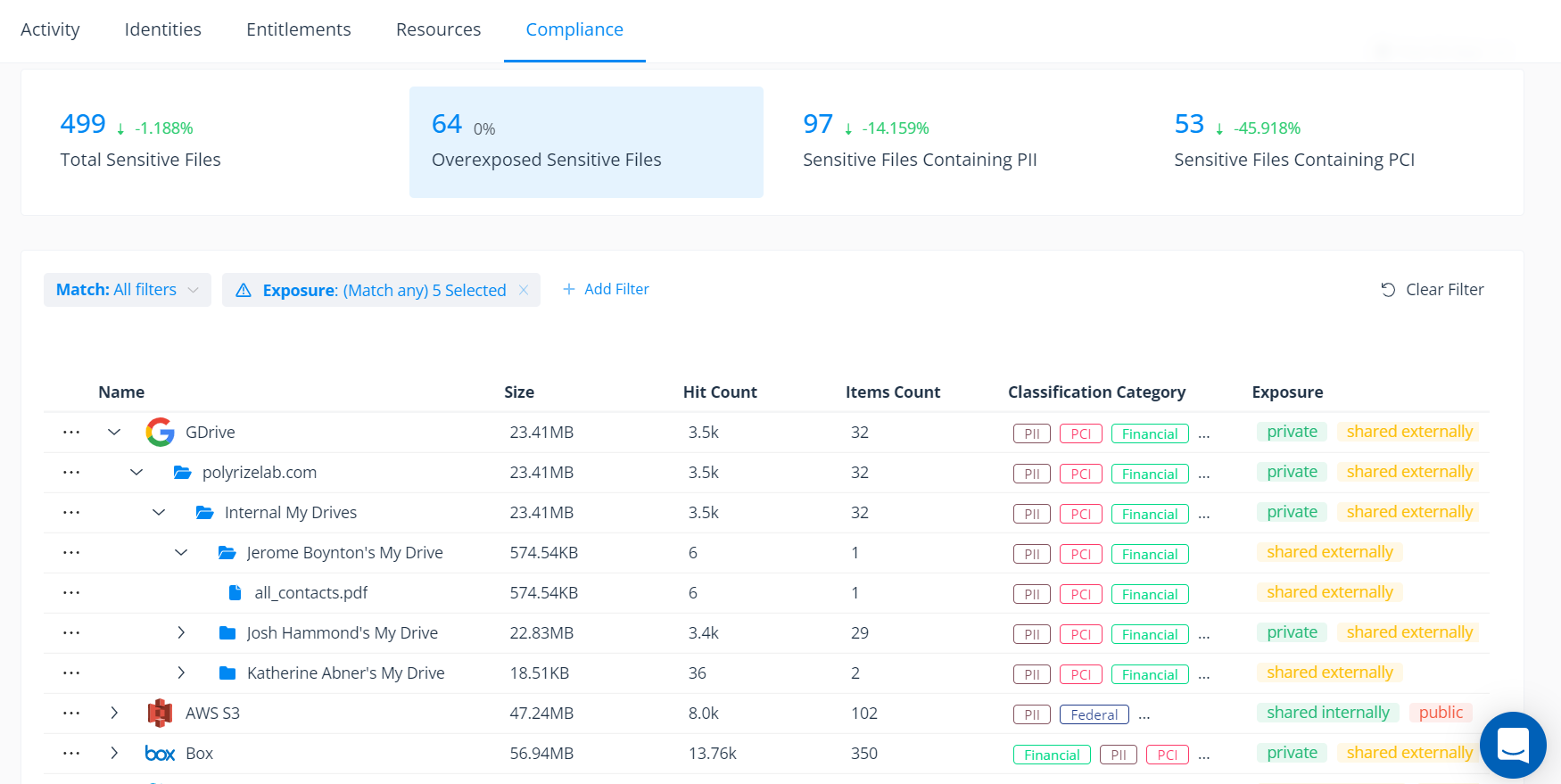 Classification Category and Hit Count show where sensitive data is concentrated across your environment.
Classification results go deeper than just high-level categories such as GDPR or PII. We also break down the specific type of sensitive data (SSN, credit card, etc.) stored and display the country-specific GDPR information (e.g., NIC numbers for France, passport numbers for Poland, etc.). This helps security pros discover data exposure and compliance risks and enables them to quickly lock down data and remediate overexposure.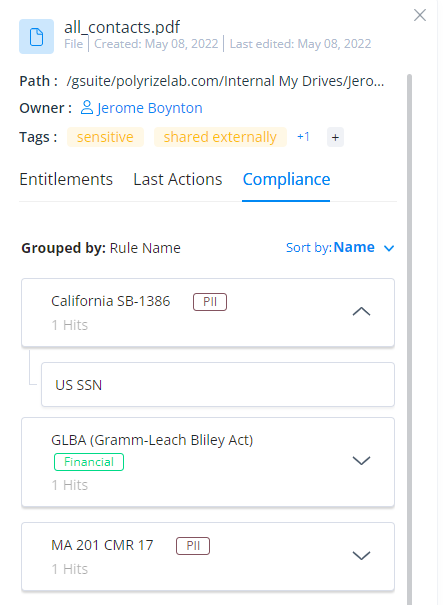 Quickly see the breakdown of sensitive data in each resource.
Real-time file analysis
File analysis takes the granularity of classification results to new levels. File analysis lets you look inside files and see exactly where sensitive data hits are found. With this feature, you have unprecedented visibility at the click of a button, enabling your security teams to move forward with confidence. Classification results are color-coded by category (e.g., all PII information will be highlighted with the same color and contact information with a different color, etc.) for quick scanning. You can also easily filter the types of classification results you see. Varonis doesn't store the contents of your documents — we fetch it for each analysis and shred it afterward to keep your data safe.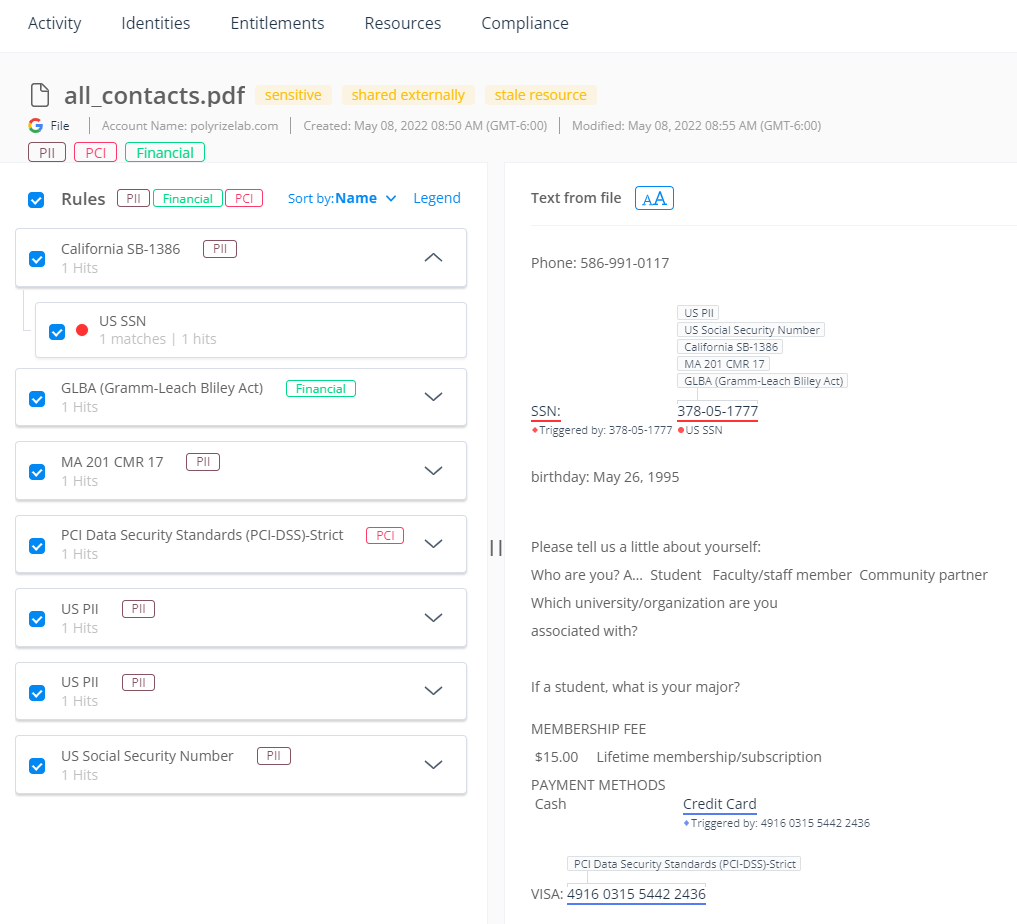 File analysis shows exactly where classification results are found within documents.
Go beyond classification: the three dimensions of data protection
Knowing where you have sensitive data is the critical first step to securing it, but to actually protect that data, you need to know who can access it (so you know what the impact could be if a user was compromised) and what the individual is doing with it (so that you can spot suspicious activity early). Varonis goes beyond classification by incorporating access intelligence and activity monitoring, to help you to make smart decisions about how to quickly and safely reduce your SaaS data risk and remain compliant.
Try Data Classification Cloud for free
Data Classification Cloud is free to try and easy to set up. Simply point the software at your existing cloud services and identity providers without any complex architecture changes or proxies.
Data Classification Cloud complements DatAdvantage Cloud, which correlates identities with privileges and activities across cloud apps, including AWS, Box, GitHub, Google Drive, Jira, Okta, Salesforce, Slack, and Zoom. Organizations can see and prioritize their biggest cloud risks, proactively reduce their blast radius, and conduct faster cross-cloud investigations.
What you should do now
Below are three ways we can help you begin your journey to reducing data risk at your company:
Schedule a demo session with us, where we can show you around, answer your questions, and help you see if Varonis is right for you.
Download our free report and learn the risks associated with SaaS data exposure.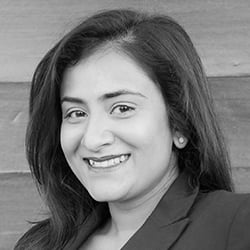 Yumna Moazzam
Yumna is a product marketing manager at Varonis. She has ~10 years of B2B tech marketing experience, mostly focused on planning, evaluation, and management of product marketing operations. When she is not trying to figure out the mechanics of the marketing tech world, she enjoys hiking, camping, and all the outdoor activities you can imagine.