It's astounding to think about how much digital data is transmitted over the internet on a daily, hourly, or even minutely basis. Every time a web page is loaded or a file is downloaded, a back and forth transaction occurs. Yet sometimes it can still feel like a challenge to find a product or tool that is capable of handling file sharing on a regular basis.
In this article, we'll look at the different scenarios where file sharing is useful and then dive into specific solutions for accomplishing your goals. Keep in mind that you should only share and transfer data that you created or that does not have copyright restrictions tied to it. Varonis Data Classification Engine can help identify all of the data assets on your various systems.
Learn how to automate Microsoft 365 management with our free PowerShell course
Check out our free security training courses, like our Microsoft Office 365 hidden settings course that includes critical security settings and counts for CPE credits.
What is File Sharing?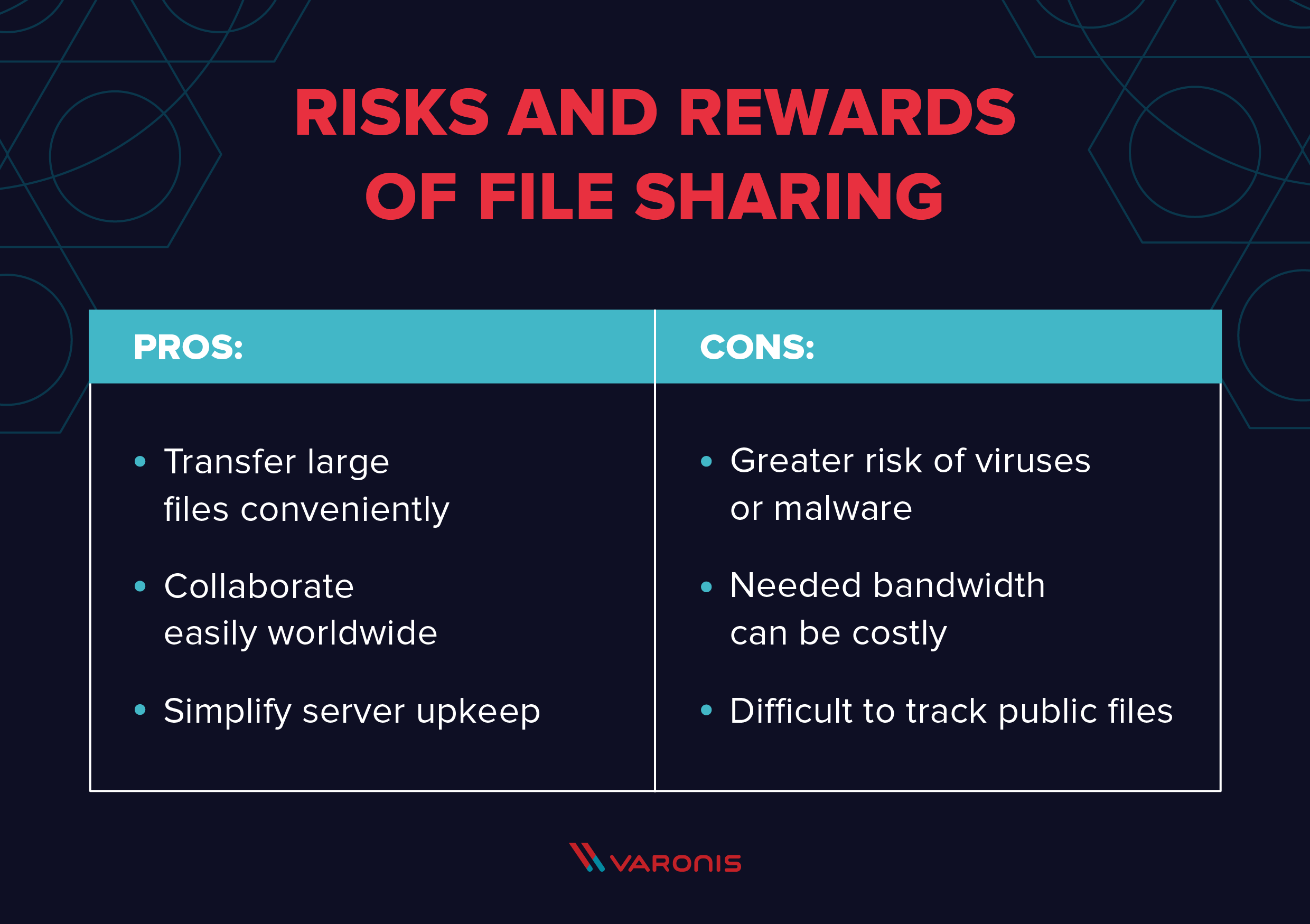 Today's computers are capable of storing all types of files, including documents, songs, videos, and full applications. When you move one or more files from your local computer to another device or remote location, you are partaking in the activity of file sharing. In some scenarios, the recipient will have to accept the file, but typically the transfer will complete automatically.
What Are The Pros and Cons of File Sharing?
There are a number of factors to keep in mind before you start actively file sharing. Let's walk through some of the key positives and negatives about the process.
Pros
Allows you to transfer large files over a network connection.
Makes it easier to collaborate with other people across the globe.
Reduces the need to maintain a central file server that is always online.
Cons
Amount of bandwidth required can be costly.
Hard to trace what happens to a file after it is shared publicly.
Higher risk of acquiring a virus or other type of malware from a remote file.
File Sharing Stats
When the topic of file sharing comes up, most people recall the days of tools like Napster which became popular methods for illegally transferring music content around the internet in the 90's. Today, however, file sharing is a key function for many businesses and other use cases. Let's examine some statistics related to file sharing.
39% of business data that is uploaded to the cloud is used for file sharing purposes.
The average company shares files with over 800 different online domains, which includes partners and vendors.
About 60% of files uploaded to a file sharing service are never actually shared with other people and are instead used as a backup copy.
About 70% of shared files are spread to only internal users in an organization.
Tips: Secure File Sharing for Businesses
Now let's take a look at some of the best practices when it comes to ensuring your file sharing sessions are secure at all times.
Pick a service that offers end-to-end encryption. This protects you from external hackers and also prevents the host itself from viewing your data.
Always double-check permission settings. Most services allow for a public sharing option, but that means that anyone with the right link can obtain your files.
Run audits on your files to see who is accessing them. If a file is no longer needed, remove it from your cloud system entirely.
Types of File Sharing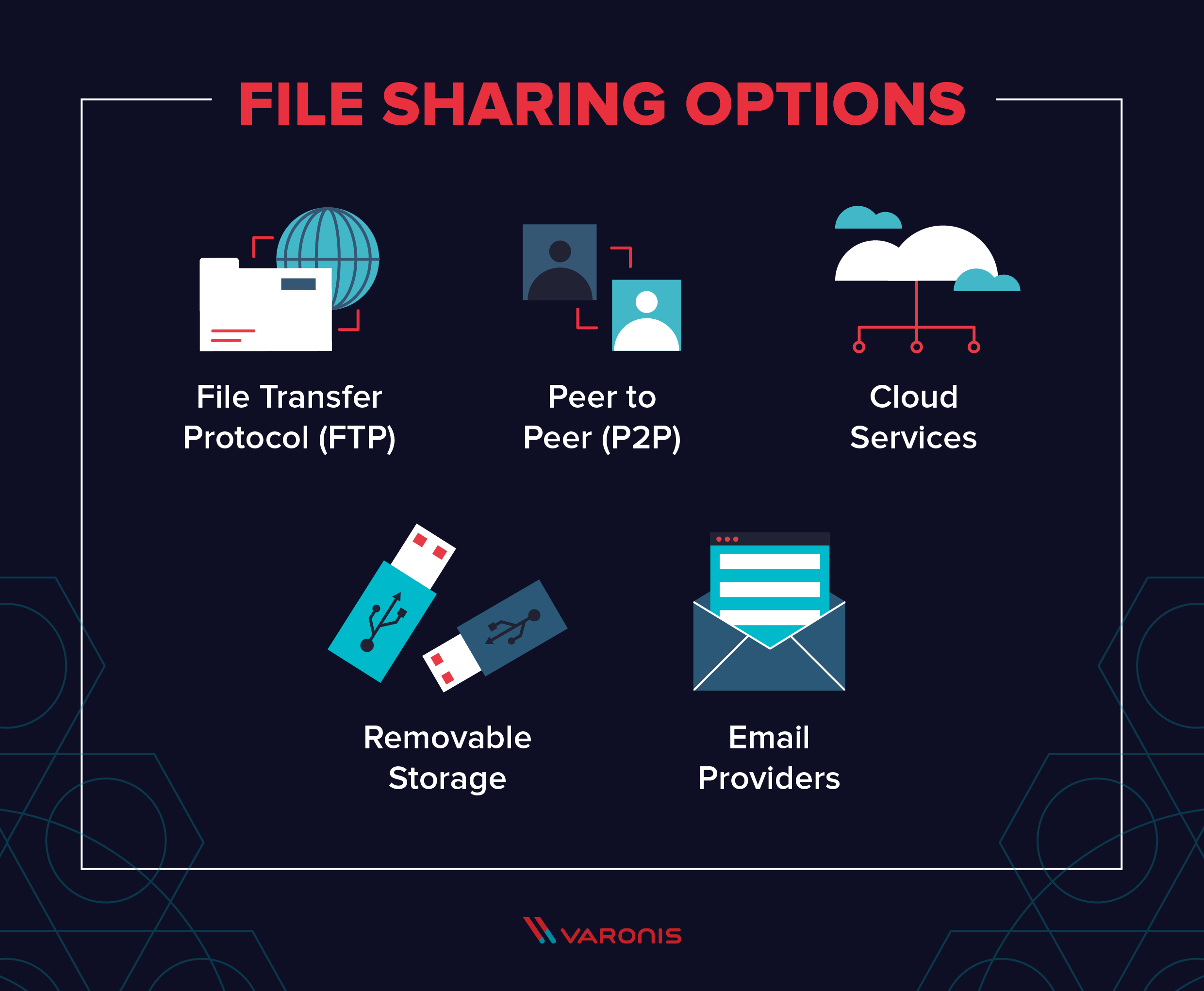 Before you can start distributing files over the internet, you need to determine what method and protocol you want to use. Your decision should be based on what types of files you are moving and who will be receiving them. We'll dive into the main options and explain what scenarios they can help with the most.
File Transfer Protocol (FTP)
FTP was one of the first methods invented for moving data across networks and it remains very popular today thanks to its reliability and efficiency. FTP actions can be run through a command prompt window or a tool with a user interface. All it requires is for you to specify the source file you want to move and the destination where it should be placed.
Great for: Large files, unusual file types, or legacy data.
Example programs: FileZilla, Telnet, WinSCP.
Peer to Peer (P2P)
The purpose of a P2P file transfer is to remove the need for a central server that hosts the data. Instead, individual clients connect to a distributed network of peers and complete the file transfers over their own network connections. P2P might eventually be used to create an unstoppable TOR. Whether or not The Onion Router (TOR) is a truly P2P environment depends on many factors, but its popularity in creating a more secure online connection is unquestioned.
Great for: Sharing files with a small group of people, files that are unavailable in public repositories.
Example programs: Limewire, Gnutella, BearShare.
Cloud Services
With a cloud file sharing service, one user uploads their data to a central repository and then other users can download the files to their own devices. All data is hosted by a third party provider, although users can specify what types of permission levels to put on the files.
Great for: Fast sharing of files, creating backups of data.
Example programs: Dropbox, Box, OneDrive, iCloud.
Email Providers
Some people don't realize that email can actually function as a file transfer system. Every time you attach a document to an outgoing message, you are initiating a transfer of that data over the open internet.
Great for: Small files, data that needs explanation.
Example programs: Gmail, Outlook, Yahoo! Mail.
Removable Storage
When no network-based option will fulfill your needs, you can always rely on a physical drive to serve as your file transfer operation. This means you are literally copying data to a USB flash drive or external hard drive and plugging that device into the destination computer.
Great for: Massive files, sensitive data.
Example programs: USB thumb drives or external hard drives.
How to Select the Best File Sharing Option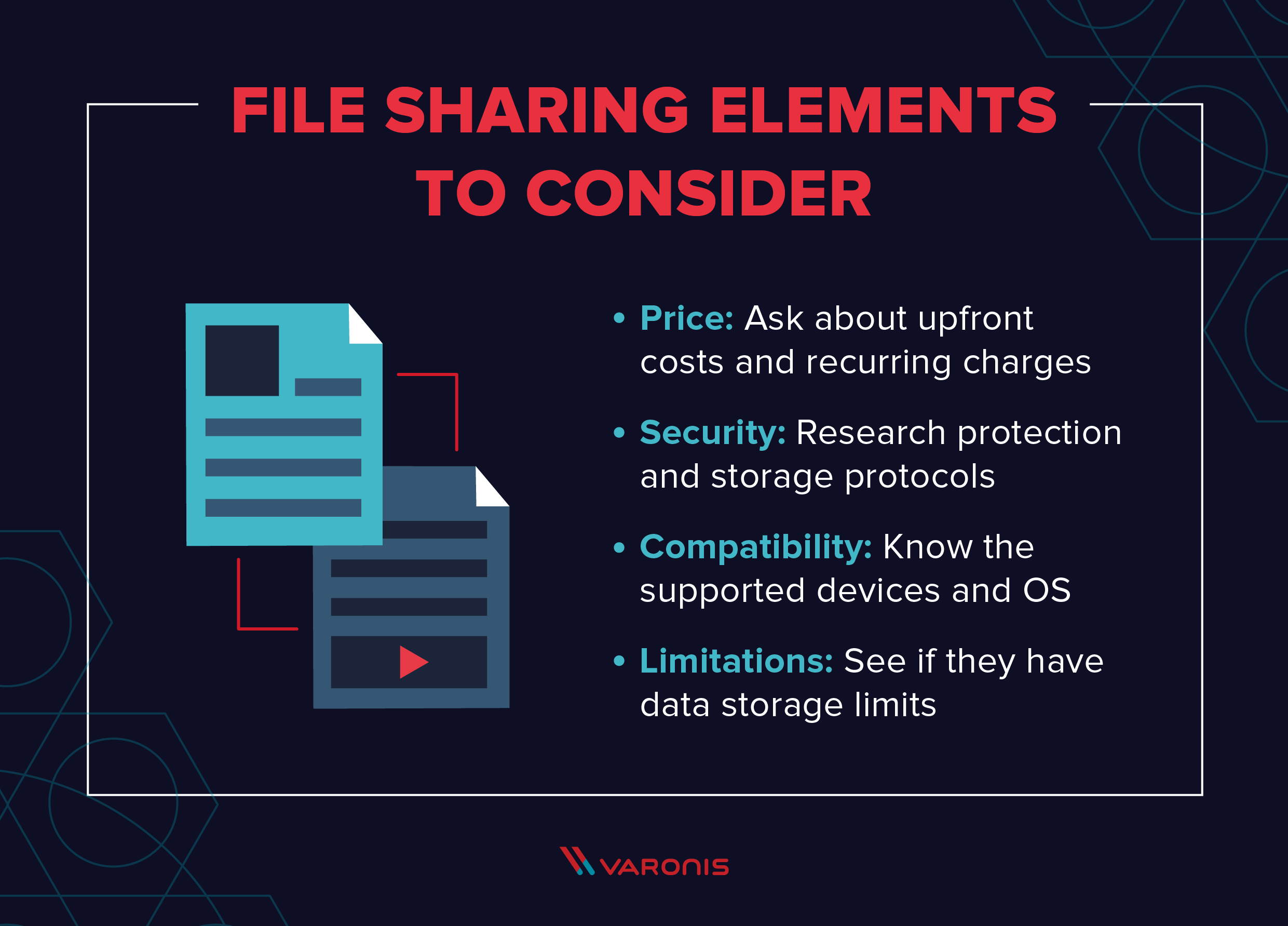 Once you've determined what method of file sharing you will use, it's time to pick an individual service or product. This can be challenging because of how many options there are, ranging from established companies to new start-ups. Here are some tips of things to consider when selecting a file sharing solution.
Price — You'll want to know how much the service costs upfront and on a monthly or yearly basis. In some cases you may also have to pay for the bandwidth used during a transfer.
Security — If you are going to trust a cloud provider with hosting of your data, make sure to research how that information is stored and what is done to protect it.
Compatibility — Find out what types of devices and operating systems will support the file transfers. If some of your users are not comfortable with new technology, look for options that have simple interfaces.
Limitations — Before making a big investment in a file sharing service, make sure to identify any limits or restrictions the provider has in terms of the number of files shared or the total amount of data stored.
In most cases, a cloud-based solution will meet your file sharing needs. For personal use, you'll find a range of free options. When it comes to file sharing at the enterprise level, you'll want to look for a tool that is robust and flexible. The alphabetized list below will help you narrow down the choices.
1. Box
Box was one of the very first cloud-based file storage services to gain popularity. It allows users and organizations to centralize all of their data and collaborate with other people. Box offers a free option for individual users and a wide range of paid plans for enterprises.
Great for: Large companies that need to manage huge data systems across the globe.
Pros: Integrates well with enterprise security systems, allows for workflow configuration, meets compliance requirements.
Cons: Cheaper plans are very limited, hard to preview files from computers and devices.
Pro tip: Enable email alerts to automatically get notified when a document gets uploaded or changed.
2. Dropbox
Dropbox seeks to provide a single place for individual users and organizations to store all of their important data. Syncing is a big focus of Dropbox, as it has native applications for mobile devices and allows you to take your files on the go.
Great for: Small and medium-sized businesses that do not require advanced features, users looking to back up critical data.
Pros: Large network of users so it is easier to share documents securely, files are always encrypted, integrate desktop experience.
Cons: Personal free plan only includes 2 GB of storage, new collaboration solutions can be confusing.
Pro tip: Check the version history of a document to see how it has changed over time or even recover it if it has been accidentally deleted.
3. Egnyte
Egnyte caters mainly to business users who want to retain tight control over every file shared inside or outside of the organization. It comes with many advanced features out of the box and also allows you to integrate its services with your own applications through an application programming interface (API).
Great for: Companies who need to transfer confidential data, organizations that support various devices and operating systems.
Pros: Extra backup copy is saved during every file transfer, adheres to highest encryption standards, robust mobile access.
Cons: Harder to use than some basic services, customer support can be lacking.
Pro tip: Administrators can share files and create custom dashboards for each individual user.
4. Google Drive
Google Drive was one of the first companies to bring document collaboration to the cloud with its Google Docs suite of browser-based tools. The platform behind that is Google Drive, which also works as a great file sharing service.
Great for: People who already have a Gmail account, small organizations that don't want to worry about local storage.
Pros: New users get 15 gigabytes for free, files can be shared with any email address.
Cons: Collaboration requires a Google account, can be difficult to see sharing settings.
Pro tip: Upload images and let Google Drive extract text from them for searching.
5. iCloud Drive
Apple has steadily been releasing improvements to its iCloud suite of online software. New Mac computers and iOS devices now come with iCloud Drive already installed so that files can be synced automatically.
Great for: Users who use Apple products at home and at work, file sharing between Apple users.
Pros: Frees up storage space on local hard drive, integration with iMessage and other Apple services.
Cons: Limited integration with Windows, new users only get 5 GB of storage, limited business support.
Pro tip: Try out the family sharing options to easily share images and videos across multiple users.
6. MediaFire
MediaFire is a small but growing cloud-based storage platform that can be used in a browser or on mobile devices. It aims to be a simplified file sharing solution for users who don't require fancy features.
Great for: Quick file transfers from one person to another, users who like to share via email.
Pros: No bandwidth limitations, fast bulk downloads, handles multiple uploads through a browser.
Cons: Basic plan includes on-screen ads, limited collaboration options.
Pro tip: Configure a one-time link so that you can make sure your files are not shared more than once.
7. OneDrive
As Microsoft has moved many of its core business products to the cloud, their OneDrive tool has become an essential part of the Windows operating system. Individual users can back-up their data and create shared folders across an organization.
Great for: Businesses that use PCs with Windows, individuals with an Outlook email account.
Pros: Integration with Sharepoint, granular permission setting, easy to use with Office.
Cons: No support for Mac OS, can suffer from slow upload and download speeds.
Pro tip: Use the OneDrive mobile app to automatically back up all of your photos to the cloud.
8. SecureDocs
SecureDocs is considered a virtual data room and is designed to cater to businesses that are pursuing mergers or acquisitions and need to manage secure document sharing. The company offers a flat monthly pricing structure that includes access for an unlimited number of users. They also offer single-sign-on options for your existing enterprise authentication tools.
Great for: Instances where security is the top priority.
Pros: Drag and drop folders, flat-rate pricing, one of few providers offering unlimited accounts.
Cons: Challenging to configure permissions, limited integration.
Pro tip: Turn on two-factor authentication to boost security.
9. SugarSync
SugarSync can be run on Mac or Windows computers so that users can easily sync folders to their cloud account. It first launched in 2008 and caters to both consumer and business users. Their security standard is equivalent to that of the banking industry.
Great for: Users with messy folders, businesses without a backup solution.
Pros: Easy to restore files online, can create public links to documents.
Cons: No free plan option, syncing speeds can be slow.
Pro tip: View snapshots of your synced documents at any point in time.
10. WeTransfer
WeTransfer aims to be the simplest file sharing service to use by reducing the administrative effort. The company was founded in 2009. Their primary service allows you to send any file to an email address or create a one-time link that other people can access.
Great for: One-time file transfers.
Pros: Extremely fast and easy to use, no account required.
Cons: Limit of 2 GB per transfer, no security features.
Pro tip: Upgrade to a business account to track download history.
File Sharing FAQ
Here are a few common questions that come up when discussing file sharing.
Q: What are Some Techniques for File Sharing?
A: The most common ones are physically sharing a disk device, using an FTP connection, or uploading data to a cloud-based system.
Q: How to Set Up a Secure Home Office Network for File Sharing?
A: With more and more people working from home and remote offices, it's important to secure your network with a virtual private network (VPN) client before doing any file sharing.
Q: What is the Most Secure Online File Sharing Software?
A: Virtual data rooms like SecureDocs that are designed to handle sensitive information.
Q: Why does file sharing cost money?
A: Although data storage is relatively cheap, hosting providers charge for storage space as well as bandwidth costs.
Data is often an organization's most valuable asset and should be secured with a tool like Varonis Data Security Platform. File sharing is easier than ever, but it's important to keep your files as locked down as possible in order to prevent a costly data breach.
What you should do now
Below are three ways we can help you begin your journey to reducing data risk at your company:
Schedule a demo session with us, where we can show you around, answer your questions, and help you see if Varonis is right for you.
Download our free report and learn the risks associated with SaaS data exposure.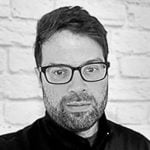 Michael Buckbee
Michael has worked as a sysadmin and software developer for Silicon Valley startups, the US Navy, and everything in between.