When excessive data access goes unchecked, one compromised user or rogue insider can inflict untold damage on your business.
Reducing the data blast radius is the No. 1 challenge for CISOs today, but it can't be solved with a one-time cleanup project or manual remediation. At the rate data is created and shared, even an army of admins couldn't keep up with removing unused or risky permissions.
Now, imagine you had a robot that could intelligently and continually remove unnecessary access and enforce least privilege while you sleep.
Varonis is thrilled to announce least privilege automation for Microsoft 365, Google Drive, and Box. This enhancement represents yet another way Varonis is delivering effortless data security outcomes to our customers. Varonis also recently added global access group remediation for Windows file shares and CIFS-based filers.
Read on to learn how it works!
Get a Free Data Risk Assessment
Least privilege automation for Microsoft 365
Varonis helps collaboration in Microsoft 365 flourish — without sacrificing security — by automatically and safely removing stale group memberships, stale sharing links, sensitive public links, and more. You give us your rules, we'll enforce them.
Intelligent enforcement of least privilege is only possible because Varonis collects all three dimensions of data:
Sensitivity
Permissions
Activity
Without sensitivity, you can't prioritize. Without permissions, you're completely blind. Without activity, your only choice is to take a shotgun approach and remove all links or permissions to sensitive data, even if they're valid and in use.
Least privilege automation for Windows and CIFS
Varonis reduces data exposure for Windows file shares and CIFS-based filers with global access group remediation policies. Effortlessly remove data exposure from excessive permission sets like the "everyone" group and domain users. Varonis determines who needs access to data and who doesn't, and then automatically replaces high-risk groups with tightly-managed groups — reducing your blast radius without interrupting business.
Quantify data risk and track progress.
Before you set up an automated remediation policy, it's important to understand your baseline data risk. Our real-time risk dashboards help you answer critical questions: How much sensitive data do you have in your M365 tenants? What kind of data is it? How much is exposed publicly or to the entire company?
You can trend risk over time and even drill into any widget and see exactly which sites, folders, files, and links are affected.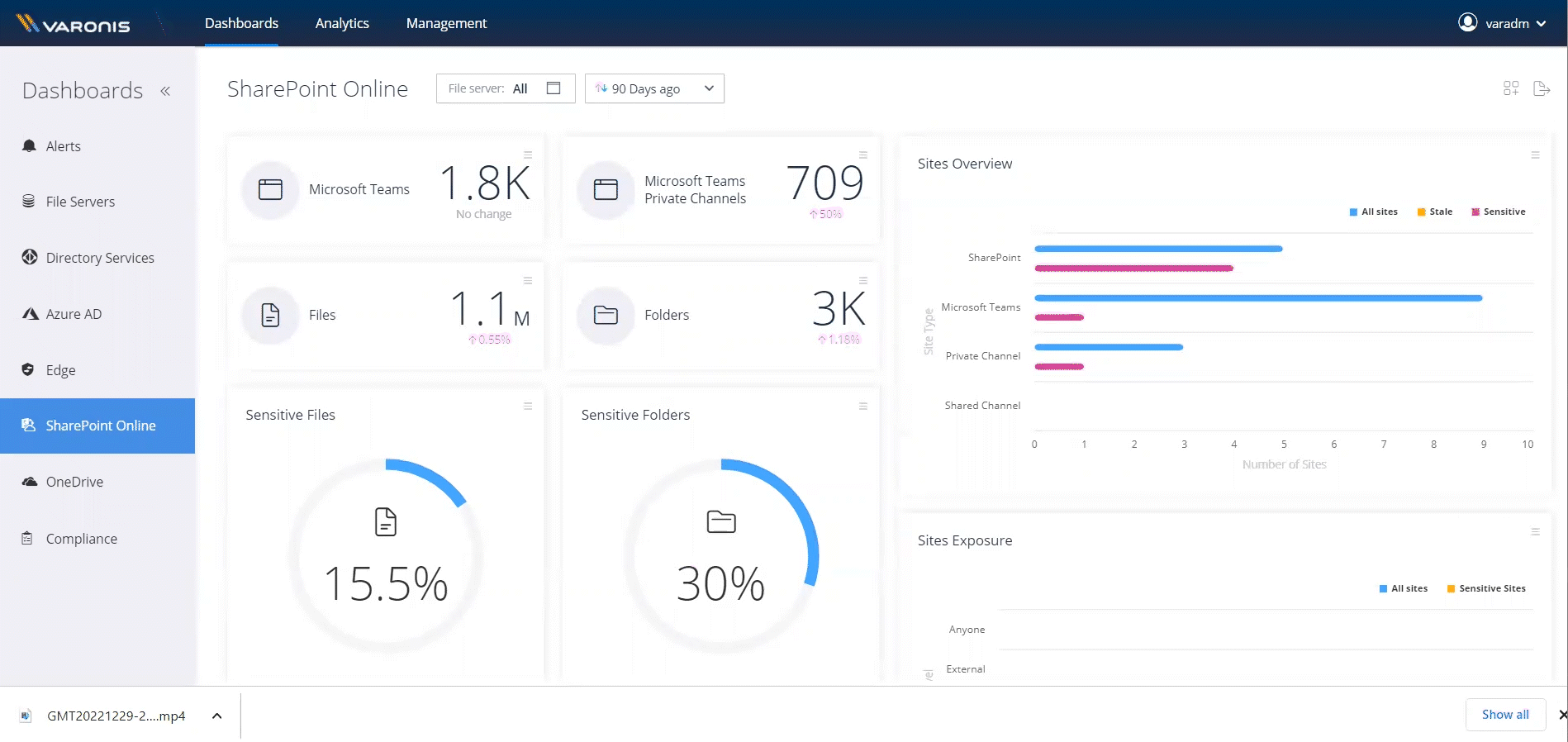 Don't just measure data security posture, strengthen it.
Out-of-the-box policies
Now that you understand your risk, you can leverage our popular out-of-the-box remediation policies to eliminate it. Some of our policies for M365 include:
Removing collaboration links that expose sensitive data
Removing any collaboration link that exposes data publicly or externally
Removing collaboration links that share data with "anyone on the internet"
Removing collaboration links that share data with "anyone in the organization"
Removing collaboration links that share data with "specific people" in OneDrive
Removing non-organization users from "specific people" links
Removing links that haven't been used in a certain amount of time
Removing group memberships
Removing stale permissions from ACLs
Removing direct permissions for dynamic groups
Removing direct permissions for organization-wide groups
Removing direct permissions for public groups
Removing direct permissions for non-organization users
Removing membership of disabled users from "specific people" collaboration links
Removing membership of users with a predefined domain from "specific people" collaboration links
Removing direct permissions for stale users
Removing direct permissions for disabled users
Removing direct permissions for users from a specific domain
Removing membership of public groups
Removing membership of org-wide groups
Removing membership of dynamic groups
Removing membership of disabled users
Removing membership of non-org users in groups with admin roles
Deleting empty groups
Disabling stale users
Removing stale memberships
You can choose to run least privilege automation on-demand, but the real magic is auto-enforcement. Whenever users violate your data sharing policies, Varonis will fix it without human intervention.
Custom remediation policies
You can easily clone and customize our pre-made policies to fit your organization's needs. Policies can be customized based on sensitivity, staleness, location, link type, and more.

Varonis lets you preview the results in the UI to see precisely which permissions will be remediated by your policy. This lets you ensure you've set the right conditions, tweak criteria, and gain confidence before you commit.

Once you're happy with your policy, you can select the schedule and approvals, and least privilege automation will take care of the rest.
Create a new policy or edit an existing one. Preview results before committing.
Least privilege automation for Box and Google Drive
Countless Varonis customers are multi-cloud organizations — storing sensitive across a multitude of cloud apps and infrastructures. The dev team uses M365 and Azure. Marketing uses Box. HR uses Google Workspace. What does the CISO want? Unified visibility and policy enforcement across all of the above.

Varonis customers can now continually eliminate overexposed data in Box and Google Drive.

Like our offerings for Microsoft 365, our out-of-the-box remediation policies for Google Drive and Box can automatically eliminate org-wide sharing links, stale links, or links shared publicly.

Surface your permissions risk with reports.
Least privilege automation for Google and Box starts with reports. Use our powerful reporting filters to identify the data risk you want to remediate. You can filter based on specific criteria to remove links shared publicly or to the whole organization such as:
Data sensitivity and sensitivity type (PII, PCI, etc.)
Exposure level — organization-wide and publicly shared data
Data marked as stale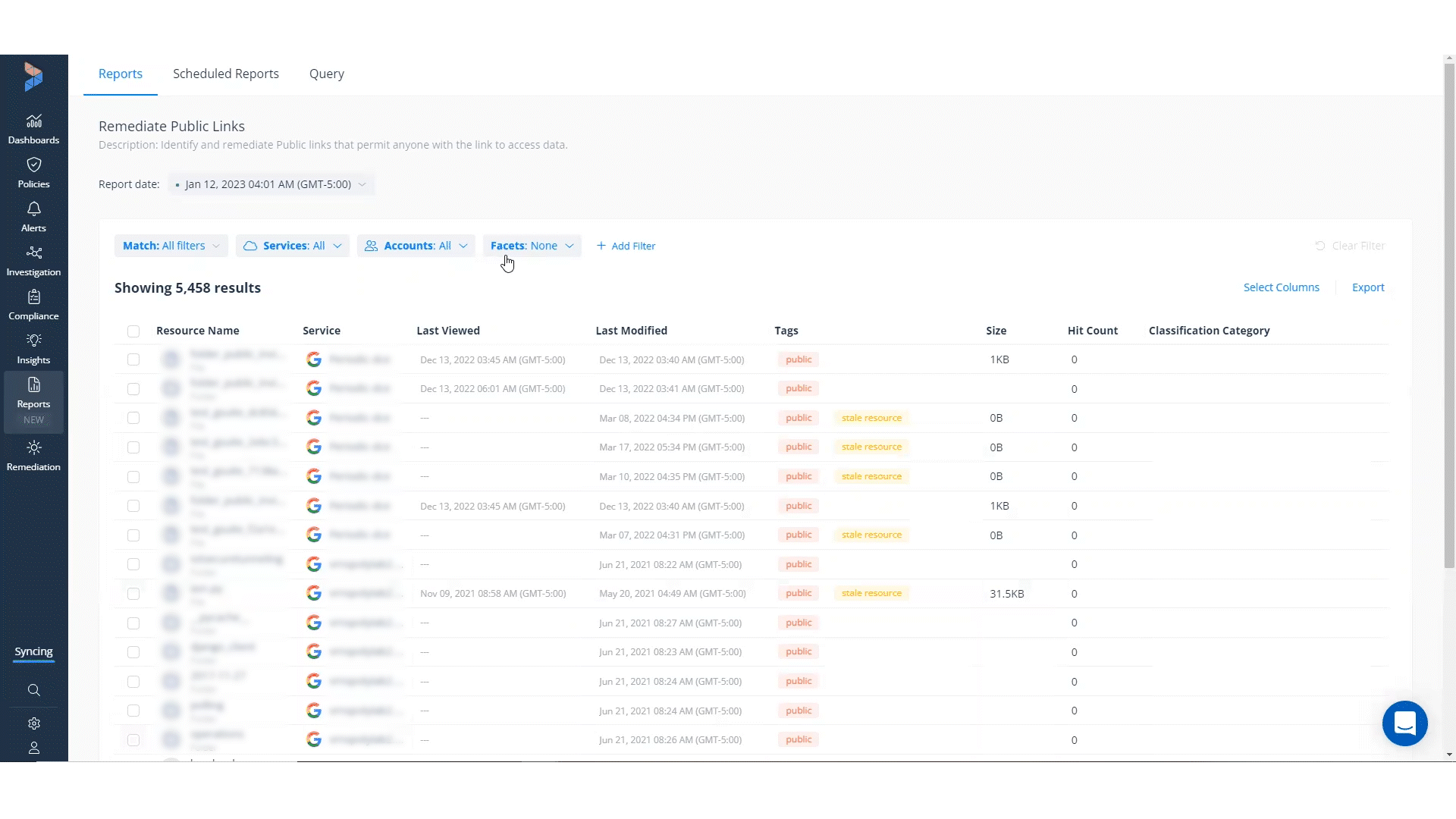 Select criteria for automated sharing link removal.
Along with remediating org-wide and public access at scale, you can take a more precise approach and remove users' direct permissions to folders and files.

You can filter direct permissions removal by:

Data sensitivity and sensitivity type
User type: external, privileged, and personal accounts
Stale permissions (permissions not used over an extended period)
Stale users
Permission type (CRUDS)
Specific users
Filter criteria for direct permissions removal.
Once you've defined your scope, you can turn your report into a policy that Varonis will continually enforce with least privilege automation!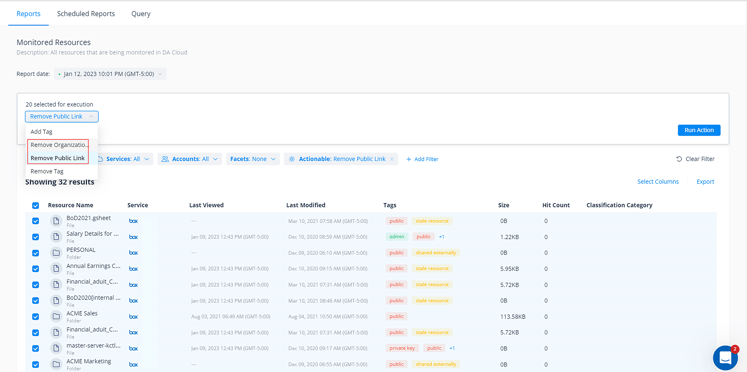 Automatically revoke access to sensitive data in Box and Google Drive.
Much like within Microsoft 365, you can use our built-in Box and Google policies or build custom ones with unique selection criteria and actions that fit your organization's various sharing policies.

For example, you could build one policy to automatically remove all public links in HR's Google Drive folders, regardless of data sensitivity, and create another policy for Marketing that only removes org-wide and external sharing links to data marked sensitive.

You can configure each policy to either execute automatically (and continually with a customizable schedule) or require them to be reviewed and approved by your admins before they execute.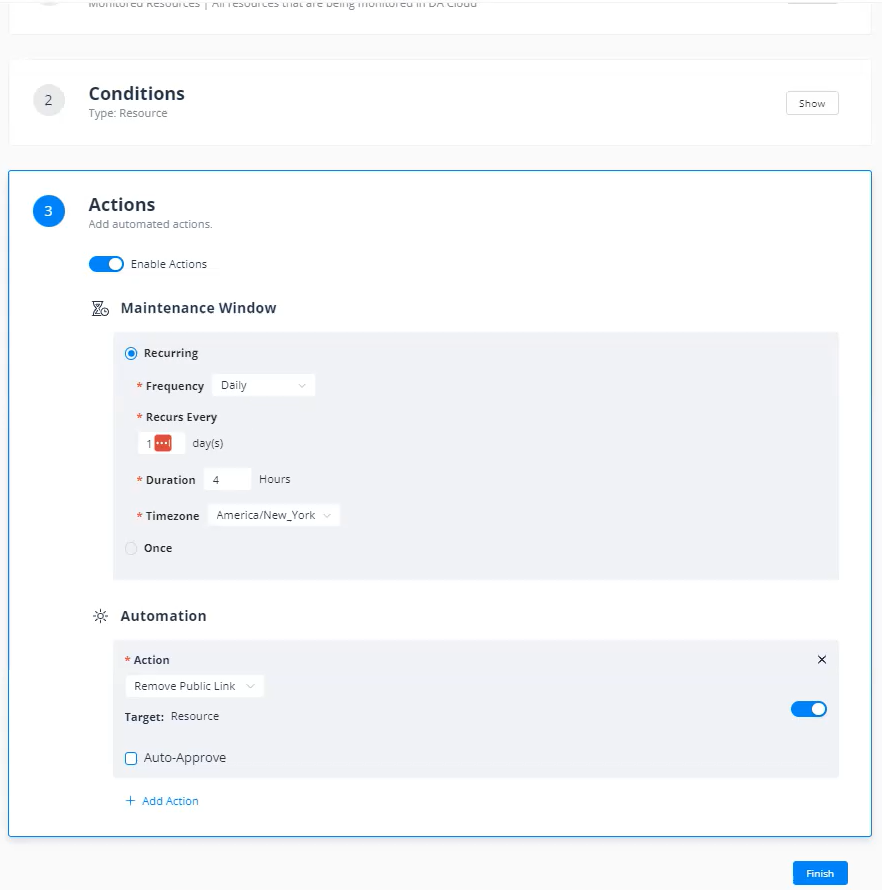 Customize your least privilege automation jobs.
Share risk reduction progress with your exec team and auditors.
Your executive team will be thrilled to receive concise reports that show meaningful risk reduction week after week. Most customers see a big drop-off in exposure after the first remediation job runs and then subsequent reports prove that they're keeping risk low.

Create a scheduled report to track your risk reduction.
Get to least privilege with Varonis.
With an ever-increasing amount of data today and a projected 100 zettabytes to exist in the cloud by 2025, IT teams are simply not set up to proactively reduce their organization's attack surface.

Varonis is on a mission to provide effortless outcomes for our customers using automated, set-it-and-forget-it data security. Our cloud-native Data Security Platform takes a few minutes to install and delivers instant insights. Improve your organization's ability to withstand security attacks through an adaptive, agile, and highly automated approach to data protection.

What you should do now
Below are three ways we can help you begin your journey to reducing data risk at your company:
Schedule a demo session with us, where we can show you around, answer your questions, and help you see if Varonis is right for you.
Download our free report and learn the risks associated with SaaS data exposure.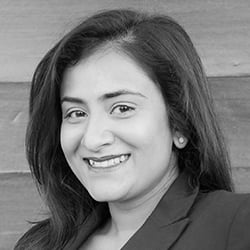 Yumna Moazzam
Yumna is a product marketing manager at Varonis. She has ~10 years of B2B tech marketing experience, mostly focused on planning, evaluation, and management of product marketing operations. When she is not trying to figure out the mechanics of the marketing tech world, she enjoys hiking, camping, and all the outdoor activities you can imagine.