Varonis received the Gartner Peer Insights Customers' Choice distinction for the File Analysis Software market.
We're particularly proud of this recognition because it is 100% based on customer feedback. Thank you to all our customers who took the time to leave an honest review.
Varonis has not only the highest overall rating, but also the most reviews in both the File Analysis and User and Entity Behavior Analytics (UEBA) markets.
Gartner Peer Insights & Customers' Choice
Gartner Peer Insights is a platform for ratings and reviews of enterprise technology. Think of it like Yelp, except all the reviews are verified by Gartner, so you can be sure each review was written by an actual customer of the product.
In markets where there are enough reviews, Gartner recognizes the most highly rated vendors with the Customers' Choice distinction. They accompany this announcement with a Voice of the Customer report, which goes into greater detail about the market and how each vendor ranks.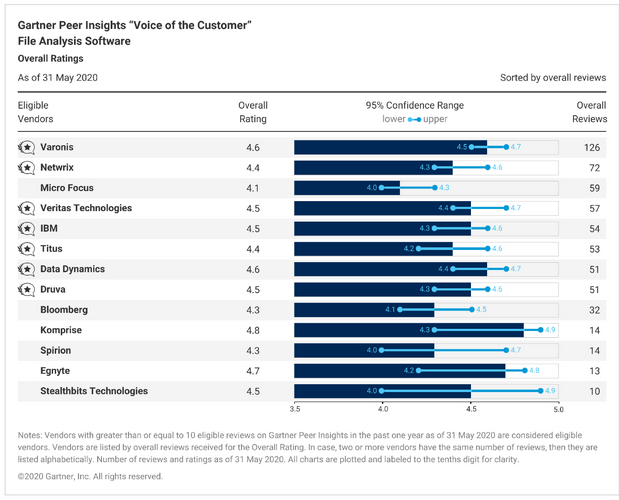 Varonis Leads File Analysis & UEBA Markets
In addition to the File Analysis market, Varonis also leads the User Entity and Behavior Analysis (UEBA) market for Gartner Peer Insights with a 4.9/5 star rating as of July 15, 2020.

Our presence in these two markets speaks to the breadth of the data security platform and the interrelated nature of the problems it solves. File Analysis is a critical first step in understanding data risk. What ultimately makes our customers so successful is our ability to help them go beyond analysis to prioritize risk based on exposure, remediate risk with automation, and detect threats to their sensitive data.
We view our rating as a reflection of our commitment to deliver superior results to customers, both through the security challenges we solve with our software and our dedicated support teams.
Featured Customer Reviews
Varonis takes customer success seriously. Read what real customers have to say:
"Full-featured and well-supported data security platform. The Varonis team has been incredibly helpful and hands-on from first demo through POC, implementation and long-tail tuning. The product itself is very powerful and configurable."
Read the full review
"The more we have used and upgraded it, we have seen many advantages and have expanded to other modules the product offers. Support had always been very responsive, both locally and from their central support center."
Read the full review
"The breadth of insight into file activity, permissions, and actions is immense and can't be overstated. Varonis comes with numerous out-of-the box reports and alerts which are easily configurable to suit whatever your needs may be. Varonis works exactly as advertised. Varonis Directory Services module gives detailed visibility into your Active Directory environment."
Read the full review
Supporting the Broader Security Community
Every organization has data to protect. At Varonis, we believe in democratizing security education. In addition to online resources like CPE webinars and livestream videos on popular hacking methods and security tools, Varonis offers free incident response services. Our team can help you investigate potential threats, whether you're a customer or a trial user, free of charge.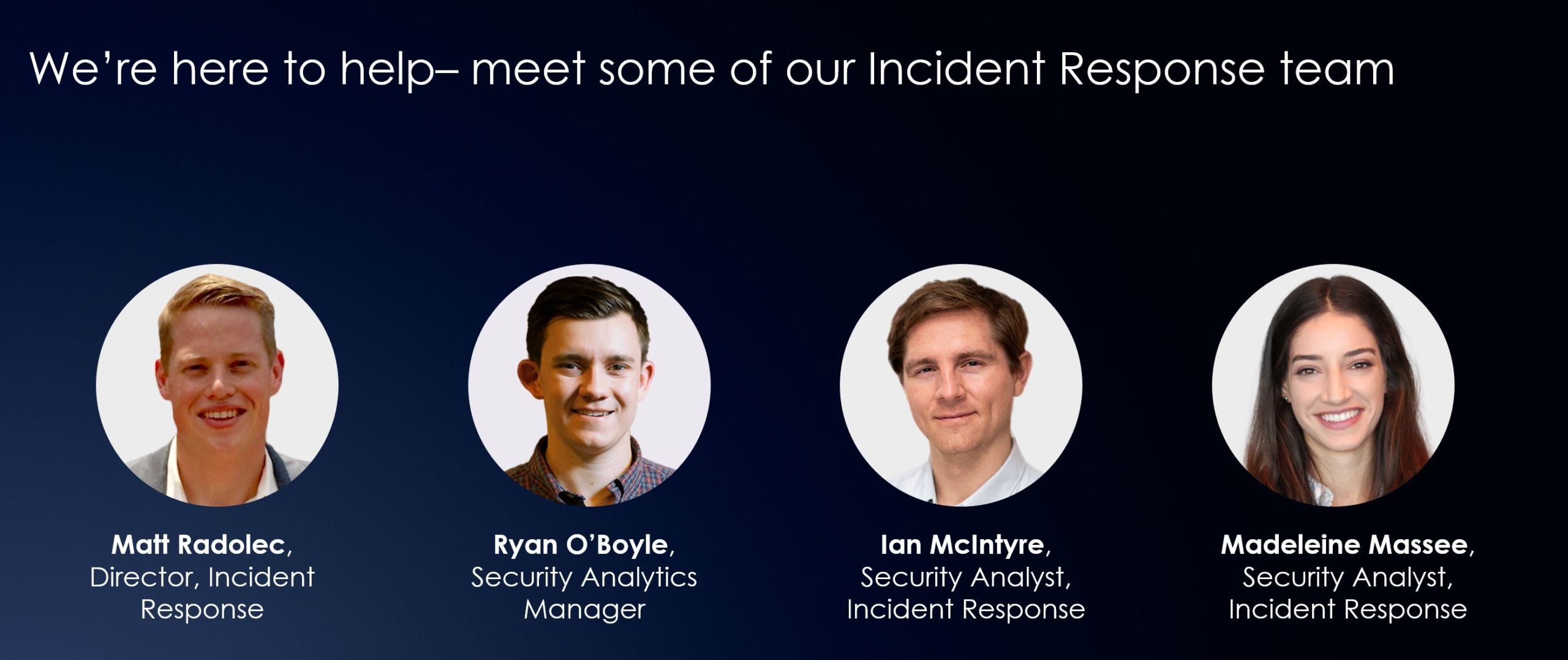 If you're curious to learn more about what Varonis can do for your organization, consider a free risk assessment. The Varonis Data Risk Assessment is a detailed, true-to-life report based on your company data, that reveals the vulnerabilities hackers will hunt for. Use the report to generate a prioritized remediation plan, get buy-in from leadership, and map out what you need to do next to meet regulations. Our team of engineers will do all the heavy lifting to help you get started.
We're Varonis.
We've been keeping the world's most valuable data out of enemy hands since 2005 with our market-leading data security platform.
How it works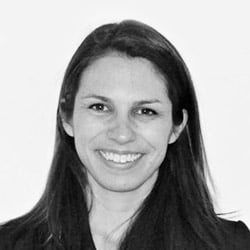 Avia Navickas
Avia is a product marketing leader with over 10 years of experience at software companies big and small.