Learn about our mission to unlock opportunity for hundreds of students.
"Most people overestimate what they can do in one year and underestimate what they can do in ten years." –Bill Gates
We'd love for you to join us in our mission to unlock the potential of underprivileged kids through consistent, deliberate action. We want to share the details of a program that has worked well for us over the past four years and commit to helping you start your own program.
So many kids are struggling, and the challenges of distance learning will only make things much worse. We believe companies can help them develop the right tools and provide the necessary ongoing support to unlock their potential.
Our program works because it's so hands-on. By working closely with each student, we become part of each other's lives. We combine our immersive approach with what we've learned in our business about process, talent development, and accountability.
The commitment is significant, but we cannot waste this untapped potential.
Email giving@varonis.com to start the conversation with our team, or read on learn more about how our program works.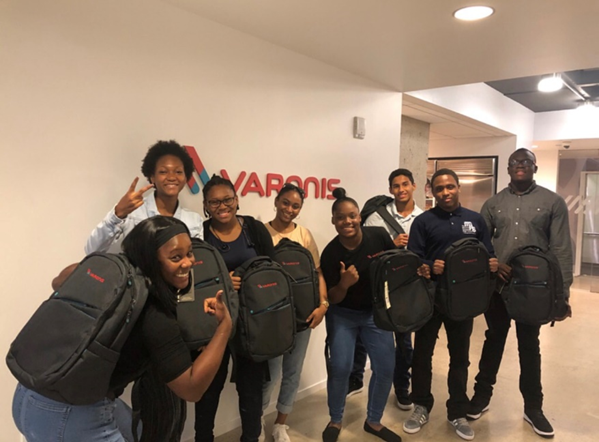 Program Pillars
Skills development
Mindset and mentorship
Accountability
Life Skills Program
High school students come to the Varonis HQ during the summer months, 2-3 days per week for a 5-week life skills program. They attend workshops with various teams and leaders at Varonis. The program focuses on practical life and business skills, and gives kids an understanding of what they might want to study in college or pursue as a career.
Here is a breakdown of the workshops run by each team:
Marketing/education

– writing skills, event planning, digital marketing, creating an ad campaign
HR/recruiting

– resume and cover letter creation, interview role play, social media/LinkedIn networking, how to read a paystub, resources for job searching
IT

– basic computer skills, troubleshooting
Sales

– how to develop a sales pitch, shadowing sales meetings, pitching to the company
Finance

– personal finance, budgeting, saving & investing, opening a bank account, and how credit cards work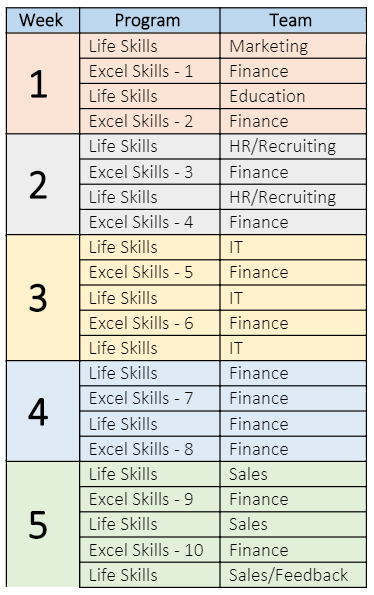 Important to ensure success:
Create consistency. Stick to the schedule and don't cancel on your kids.

A single point of contact. Designate one person to oversee the program and coordinate the volunteers, review content, and address ad hoc changes.
Reminders, reminders, reminders! It takes time for the kids to develop strong habits; at the beginning, they will need reminders of the schedule and any prep work.

Food! No one can think well when hungry, provide (healthy) food throughout the days.

Listen. make sure you check in with them during the program, they are dealing with a lot and need someone to listen to them in order to be able to focus on the content of the session.
Excel Skills Program
Students learn basic excel skills through hands-on training with the Varonis finance team. The students and the team will meet for a total of 10 sessions over 5 weeks.
Financial Skills Program
Varonis CFO/COO, Guy Melamed, and members from the finance team meet with students for a 6-8 week comprehensive program. Students learn the fundamentals of finance and money management.
Topics include:
Credit cards, credit Scores, and budgeting
Loans and ROI
Compounding Interest
Stock market education day
NASDAQ visit day
How to analyze risk
SAT and Regents Prep Program
The program provides extensive tutoring in math, English, and SAT prep. We've increased math scores on the New York Regents Exams by about 45% and SAT scores by 150 points. We found that the key is to provide tutoring in small groups and to measure scores before, during, and after to ensure they are getting the right amount of tutoring. Partner with one tutoring school, preferably one that can come onsite.
After School Tutoring Program
Research shows that high success in Math and English are indicators of financial success as adults; the earlier you build a strong foundation, the greater impact it has. Start with middle-schoolers. Partner with school principals to identify kids in need, and have a teacher/coach ensure the kids are showing up to class and tutoring sessions and actively participating. Measure grades before during and after to inspect progress.
In our program, middle school students receive after school tutoring from a certified DOE-approved tutoring company that puts together a customized curriculum to help with Math, English, and NYS Exam prep.
Internships
Landing the first job is challenging, especially when you or your parents don't have connections in the business world. What's more, your first job can be a huge stepping stone to your career. Find a few areas in your organization that can onboard interns. It is important to partner with each intern with an internal "buddy" that can walk them through the company and job requirements.
Alumni Support Program
Alumni are students who have completely graduated from the Varonis program. Varonis conducts monthly check-ins with alumni and we host quarterly dinners to see how things have been, talk about changes going on in their life, provide ongoing support, help prep for interviews, compose college recommendation letters, etc. Staying connected builds the long-term trust, community, and friendship we all need as humans.