1. Here's an interesting perspective from a CTO on why metadata matters.
2. By September 30th, California Governor Jerry Brown will either veto or sign two very important bills that will protect student data and their privacy. Major protections of SB 1177 include prohibiting any website or mobile app from targeted advertising to K-12 students, their parents or legal guardians. The bill would also prohibit the sale and unauthorized access of student information. Meanwhile, AB 1584 deals with contracts between local educational agencies and third-party technology vendors. Once these two bills are signed into law, it would address a growing problem of mismanagement of student data and their privacy.
3. Earlier this week, the FTC held another Big Data workshop to continue its discussion on consumer privacy, "Big Data: A Tool for Inclusion or Exclusion?" Three major challenges that set the framework for theday-long workshop were: biased scores derived from credit reports, the unregulated world of data brokers and companies' use of their own data about their customers. Solutions such as transparency and accountability were reiterated throughout the workshop.
4. The Data-Driven Marketing Institute reported that our "digital footprint" – which is comprised of data that we leave behind on a daily basis such as our location coordinates, time entered and exited a store, when a credit card is swiped, or an itemized list of things purchased – generated $156 billion dollars1 in 2012. This impressive figure is only just the beginning. As digital marketing becomes even more prevalent, organizations will soon be able to collect more data to develop a 360 degree view of customers' thoughts and desires. As consumers contribute to this multi-billion dollar data industry, a question that's coming up more often is, will we be compensated?
5. Privacy advocates have taken note of new features Apple has added in iOS 8. Under this version of the operating system that was just released on September 17, all personal data—photos, messages, contacts, email, call history –are encrypted by the device passcode. Previously, the key was maintained by Apple, thereby forcing the company to hand over passcodes when faced with law enforcement requests. Under the new scheme, Apple can't honor court warrants since it is unable to bypass the passcode. Apple has added two-factor authentication to its iCloud storage service, as well as an "always on" VPN feature.
---
[1] http://ddminstitute.thedma.org/files/2014/06/DDMI-Webinar-Value-of-Data-Study-2013.10.17-FINAL.pdf
We're Varonis.
We've been keeping the world's most valuable data out of enemy hands since 2005 with our market-leading data security platform.
How it works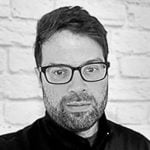 Michael Buckbee
Michael has worked as a sysadmin and software developer for Silicon Valley startups, the US Navy, and everything in between.