A fact of life for many Chief Data Officers (CDOs) is that once you've achieved certain milestones in your data strategy, your focus will inevitably shift to a new milestone challenge. This shift usually means a new strategy and vision. The hard part is figuring out what your new strategy will be. How will you get there?
Earlier this week at the CDO Summit, Savitri Sriram, Global Head, Retail Risk Data Strategy & Oversight at Citigroup offered a new paradigm, a new playbook if you will, to take on our overwhelming data challenges.
Get the Free Essential Guide to US Data Protection Compliance and Regulations
She thought, if Steve Jobs embraced design thinking – an innovative approach that melds product design with human behavior – to create the iPod and iPhone, we should also use the same approach with our data challenges.
Current Data Challenges
Ms. Sriram has a point. Organizations, no matter what vertical, have to simultaneously solve dual challenges of complying with evolving regulations and compliance standards on data quality, collection, retention, usage, privacy, security, etc. and use data to drive revenue. With an additional challenge of reaching these goals with limited budget, time as well as resources – it's no small feat.
She said, "Data is already created before we even look at it. And technology has not kept pace. By the time the organization decides to use it, the technology has changed. At the same time, technology enables the business model. We're able to create products and services because if it. However, sometimes we aren't synchronizing with technology and the customer. We assume we're engaging with customer a certain way, but they've moved on because the technology has advanced. This is puts us in a disadvantage."
What is Design Thinking?
Hence, Ms. Sriram's new design thinking approach to befriend our big data challenges.

She quoted Tim Brown, CEO of IDEO, "Design thinking can be described as a discipline that uses the designer's sensibility and methods to match people's needs with what is technologically feasible and what a viable business strategy can convert into customer value and market opportunity."
To reframe design thinking within a data context, it is a method to solve data challenges and to generate innovative solutions, based on a user-centered approach with a multi-disciplinary team.
How do you use Design Thinking in your Data Strategy?
This was the design thinking process Ms. Sriram used.
| | |
| --- | --- |
| Design Thinking Process | How-to |
| 1. Understand | First, understand the data challenge, business problem, and/or regulation. |
| 2. Observe | Observe and gather insights about a user's needs. After all, it's the people in the business who have to use the data every day. |
| 3. POV | Create a theory, about the user's needs, pain points for ways to improve. |
| 4. Ideate | Generate ideas for possible solutions to the defined data challenge. |
| 5. Prototype | Create a possible solution to test your theory. |
| 6. Test | Gather feedback from users and stakeholders about concept and prototype. Iterate theory, ideate, prototype, and test as needed. Create a company culture to test and learn from your data. |
| 7. Storytelling | Tell the story to users and stakeholders to gain buy-in. |
| 8. Pilot | Pilot your idea within your organization |
| 9. Business Model | Incorporate data insights discovered in your design thinking process to your business model. From sustained use of design thinking, it'll become your competitive advantage. |
Value in Design Thinking
The benefits and value Ms. Sriram has reaped in implementing design thinking has been tangible and sustainable. By strategically using clean data, resulting in a significant ROI, she's been able to reassert big data's staying power. She's been able to partner with the newest technology and get good data quality to help her enable people to make faster and better decisions – inside the company and with customers. She also built a culture of integration and interaction between silos, using "and" rather than "versus".
This inspiring and data strategist reminded us, "Innovation doesn't require large volumes of data, but it requires clean data and people who know your business and customer … Design thinking is a lifestyle commitment. It doesn't happen overnight, it takes years. And it comes from top down and bottom up."
image source: dschool.fr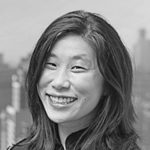 Cindy Ng
Cindy is the host of the Inside Out Security podcast.