As we wrap up June and officially enter into summertime, check out our cool new updates, bringing you more cloud security features to help you better govern your SaaS and IaaS security posture.
Our latest updates include:
A compliance dashboard for a centralized view of your compliance posture
New dashboard views to visualize remediation progress over time
A streamlined investigation experience for faster analysis across clouds
Salesforce Shield integration
Watch the quick 3-minute video where we take you through the important new features, or scroll on for a summary of what's new with Varonis in June 2023.
2:39
New compliance dashboard
For our data classification users, the new compliance dashboard in Varonis DatAdvantage Cloud allows organizations to easily assess their compliance posture with an intuitive interface. You can easily see where sensitive data is concentrated across your distributed cloud ecosystem and where it's exposed publicly, externally, and org-wide, potentially violating compliance requirements.
Easily drill down from these widgets to get a detailed view of where data is located, see who has access and what their permissions are, and view any activity on that data.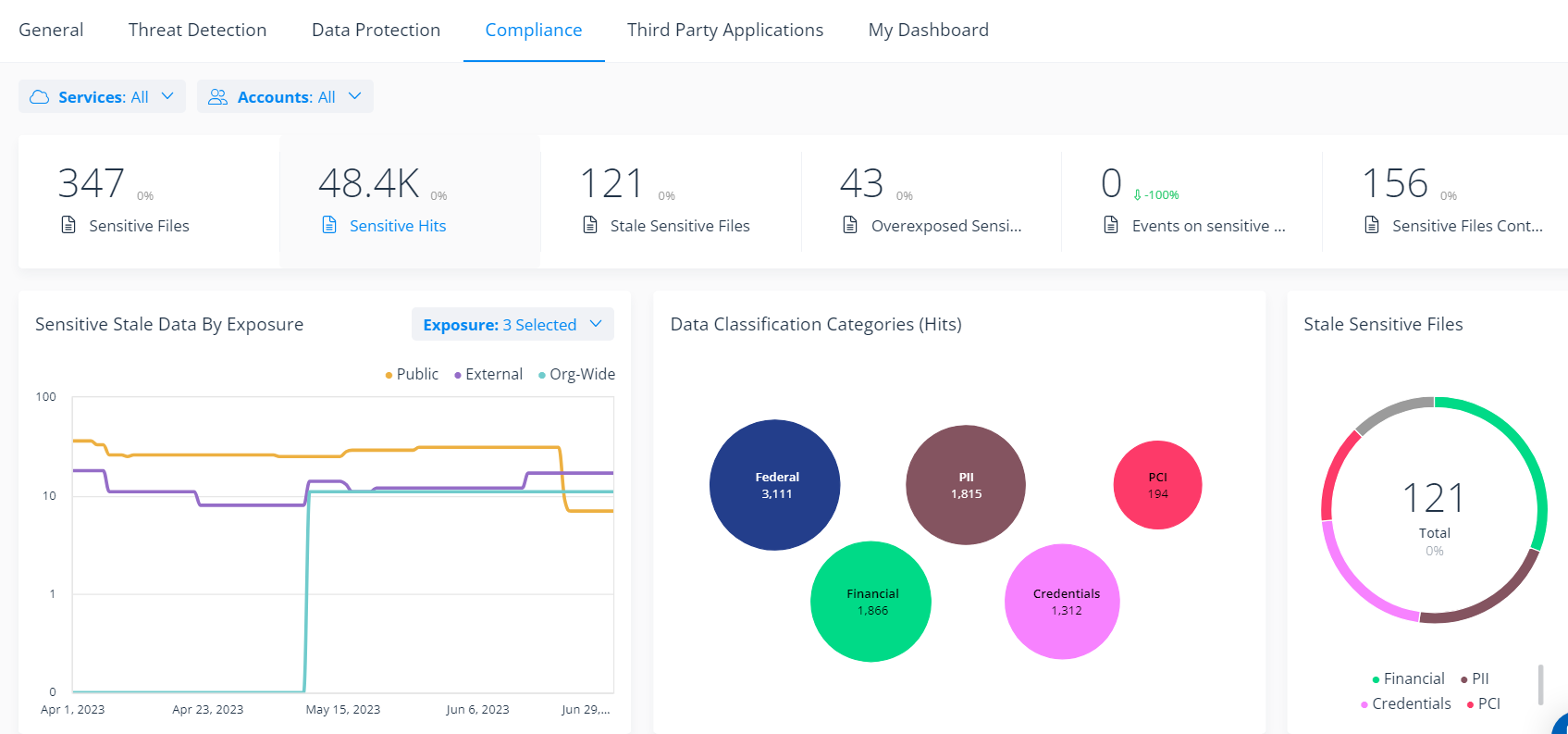 Easily assess your compliance posture with an intuitive interface.
Track remediation progress.
Track remediation over time and clearly see how sharing links affect your security posture. Use these new dashboard widgets and pre-defined reports to demonstrate to executives, auditors, and even cyber insurers that you are continuously reducing data exposure. A dedicated remediation page makes it easy to monitor and export the progress of your remediation actions. You can also review and approve any pending remediation job with a simple click.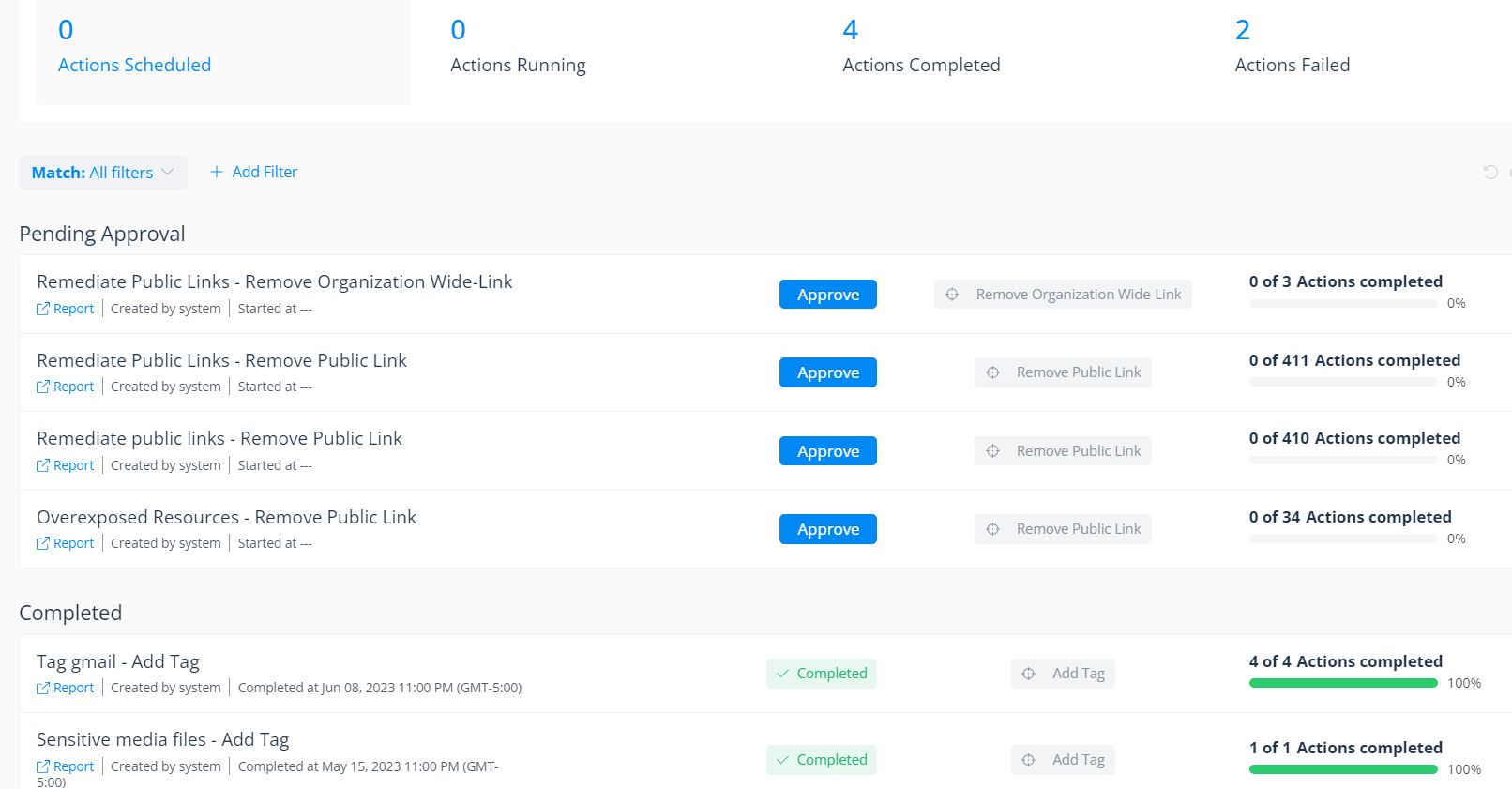 Monitor your remediation progress from a single page.
Streamline investigations with a refreshed view.
Varonis is easier than ever to use as a starting point for investigating suspicious behavior like ransomware, data exfiltration, and unauthorized data access across your cloud environment. The updated investigation view empowers you to perform multiple investigations simultaneously from one screen. Easily drill down into any alert to examine suspicious activity or use the pre-built queries to speed up investigations.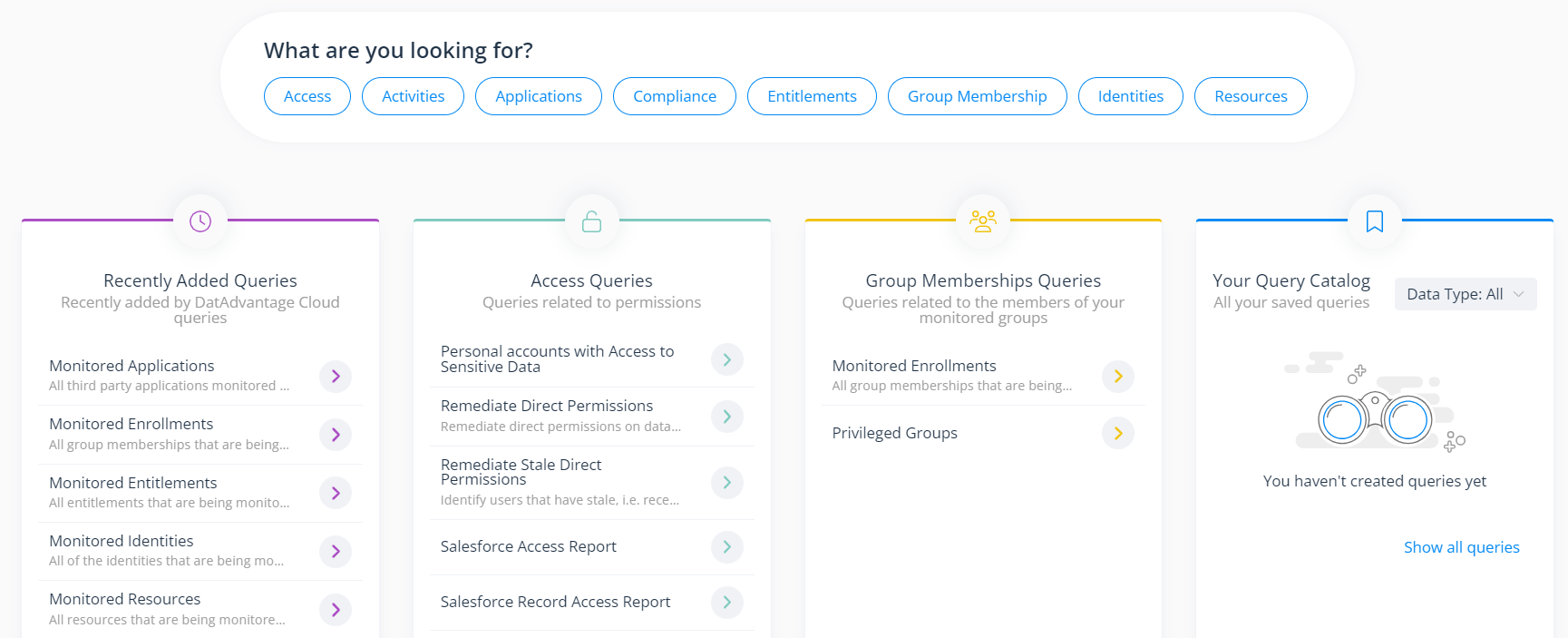 Use the pre-built queries to speed up investigations.
Salesforce Shield integration
Varonis now integrates with Salesforce Shield! Shield customers can collect Varonis' data-centric events without incurring additional API calls. Stay tuned as we continue to strengthen this integration and expand the number of new events that Varonis will collect from Shield.
Want to learn more?
For more information, including release notes and how-to videos, visit the Varonis Community.
Try Varonis for free.
Varonis is innovating faster than ever before, helping you get 10x the value with 10% of the effort.

Want to give our platform a try? It takes just minutes to install and provides data security insights instantly. Reach out to get started.
What you should do now
Below are three ways we can help you begin your journey to reducing data risk at your company:
Schedule a demo session with us, where we can show you around, answer your questions, and help you see if Varonis is right for you.
Download our free report and learn the risks associated with SaaS data exposure.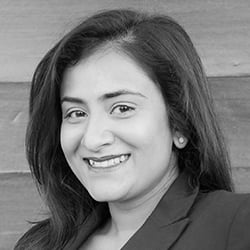 Yumna Moazzam
Yumna is a product marketing manager at Varonis. She has ~10 years of B2B tech marketing experience, mostly focused on planning, evaluation, and management of product marketing operations. When she is not trying to figure out the mechanics of the marketing tech world, she enjoys hiking, camping, and all the outdoor activities you can imagine.