If you want to avoid a large HIPAA fine – and you do – you need to invest in HIPAA compliance software that protects your data and alerts you of any abnormal behaviors that put your electronic protected health information (ePHI) at risk.
Varonis provides the capabilities you need in a HIPAA compliance software solution. With Varonis you will uncover hidden ePHI, clean up permissions issues, and protect your data from breaches.
Get the Free Essential Guide to US Data Protection Compliance and Regulations
What is a HIPAA Compliance Audit
During a HIPAA compliance audit, your organization has to demonstrate adherence to the HIPAA Privacy Rule and HIPAA Security Rule. You must prove that your company is actively pursuing HIPAA compliance and that you have systems in place that are more than adequate to enforce the regulations.
During a HIPAA audit, you need to show the auditors how your company protects PHI from data breaches. HIPAA doesn't define how you achieve compliance and protect PHI, so it's up to you to prove compliance and provide auditors with any data they need.
Here is a six-step plan you can follow to protect ePHI data: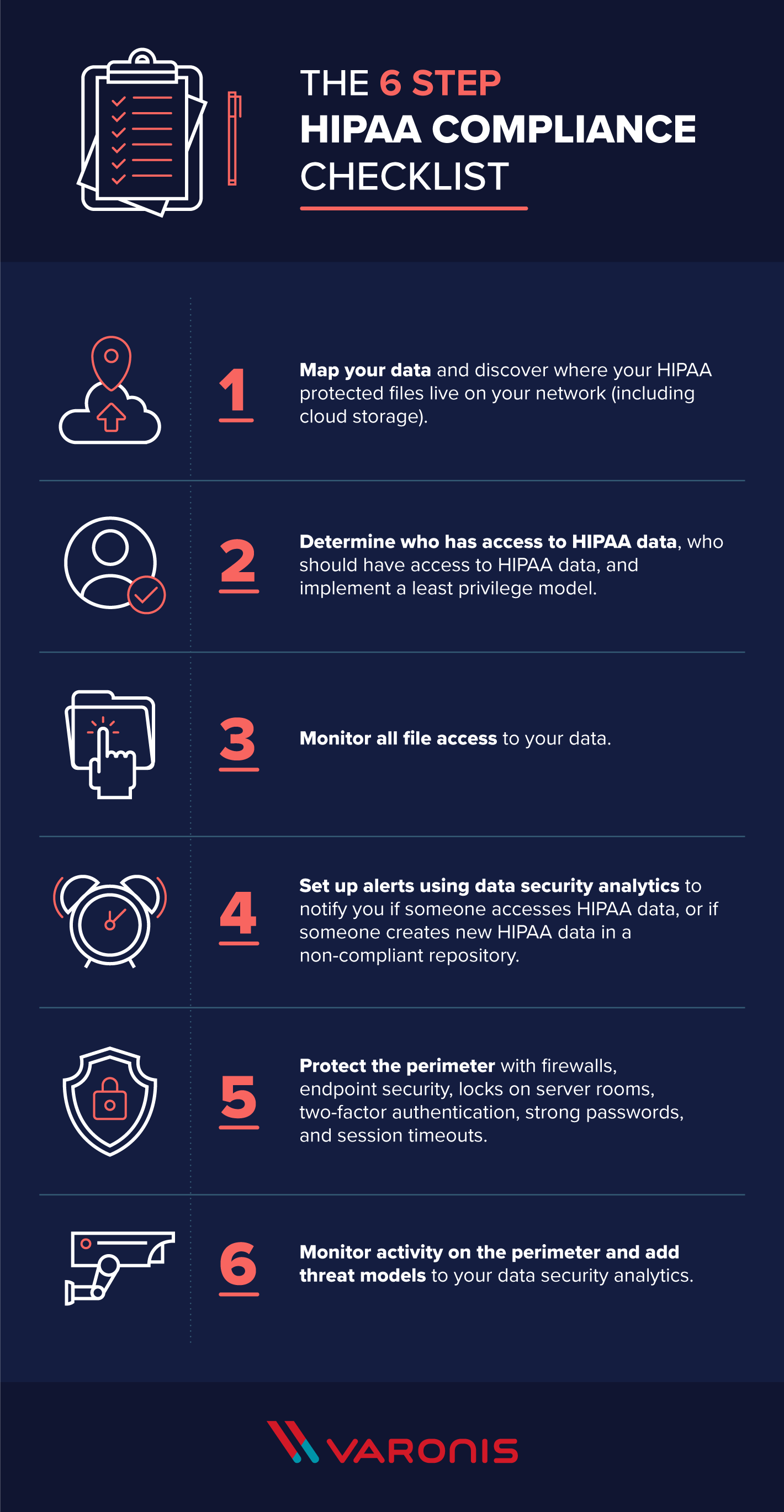 Map your data and discover where HIPAA protected files live on your network.
Determine who has access to HIPAA data, who should have access to HIPAA data, and implement a least privilege model.
Monitor all file access to your data
Set up alerts to notify you if someone accesses HIPAA data, or if someone creates new HIPAA data in a non-compliant repository.
Protect the perimeter with firewalls, endpoint security, locks on server rooms, two-factor authentication, strong passwords, and session timeouts.
Monitor activity on the perimeter and add threat models to your data security analytics.
HIPAA Compliance Audit Challenges
HIPAA compliance audits can be challenging and disruptive to the ordinary workday. Here are some questions you can answer in advance that can help you understand what you might face during a HIPAA compliance audit:
Who has access to PHI/ePHI?
Can you provide lists of access rights to data to any folder in your network right now?
Are you regularly auditing permissions, so they are current and updated?
Do you know where all of your PHI lives on the network? Are there controls in place to ensure ongoing security of PHI?
Are you 100% sure there isn't ePHI with saved that you don't know about?
If someone does make a mistake and save PHI to the wrong folder will you detect it?
Can you readily identify all file activity that occurs on ePHI?
Are you able to show auditors exactly what data attackers accessed in a data breach?
Asking these questions of your team and implementing a HIPAA compliance software solution that includes Varonis will protect you from data breach and make you look good in the eyes of a compliance auditor.
How to Achieve HIPAA Compliance With Varonis
The HIPAA Security Rule defines the Technical Safeguards you need to implement to be HIPAA compliant. Varonis helps organizations fulfill the requirements in the HIPAA Security Rule by protecting and monitoring your PHI data wherever it lives. Let's walk through how Varonis maps to the HIPAA requirements and helps you achieve HIPAA compliance.
HIPAA requires:
Access Control: A covered entity must implement technical policies and procedures that allow only authorized persons to access electronic protected health information (e-PHI)
Varonis maps all of your users, folders, and permissions so you can identify where your data is at risk of unauthorized access. With Varonis, you can automatically eliminate the worst offenders of permissions issues – Global Access Groups – with a few button clicks. Varonis empowers you to update permissions on all folders and identify data owners – the people that should be managing and auditing access to their data.
Audit Controls: A covered entity must implement hardware, software, and/or procedural mechanisms to record and examine access and other activity in information systems that contain or use e-PHI.
Varonis monitors and records your file activity, folder activity, and email activity so you can always answer the question, "Who is accessing my data?" Varonis reporting will allow you to prove to auditors exactly who is accessing your ePHI. Varonis looks for patterns of abnormal behavior on your ePHI and alerts you of any potential misuse from insiders or outsiders.
Integrity Controls: A covered entity must implement policies and procedures to ensure that e-PHI is not improperly altered or destroyed. Electronic measures must be put in place to confirm that e-PHI has not been improperly altered or destroyed.
Varonis correlates file access, email activity, and perimeter telemetry to warn you of any potential threats to your ePHI.
A valid user accessing ePHI isn't noteworthy, but Varonis can tell you if that user account logged in from an odd geographic location, is accessing data they have never touched before, or if the computer they logged into recently triggered a malware alert. Varonis gives you actionable intelligence you can use to investigate any potential intrusion.
Transmission Security: A covered entity must implement technical security measures that guard against unauthorized access to e-PHI that is being transmitted over an electronic network.
Varonis monitors DNS, VPN, and Web Proxies to augment and add invaluable context to cybersecurity alerts. Varonis correlates perimeter telemetry with user and file activity to paint a clear picture of current behavior patterns. Any behavior patterns that match a known threat model triggers alerts with all of this correlated data so you can immediately begin research into the incident.
By implementing Varonis as your HIPAA compliance software, you are empowering your organization with a powerful data access governance, data security monitoring, and behavioral analysis system. You will actively protect your PHI data, and you will have early detection of any potential HIPAA data breaches.
Click here to schedule a meeting with a HIPAA compliance expert about using Varonis for your HIPAA compliance software solution.
What you should do now
Below are three ways we can help you begin your journey to reducing data risk at your company:
Schedule a demo session with us, where we can show you around, answer your questions, and help you see if Varonis is right for you.
Download our free report and learn the risks associated with SaaS data exposure.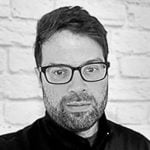 Michael Buckbee
Michael has worked as a sysadmin and software developer for Silicon Valley startups, the US Navy, and everything in between.