Welcome to Speed Data: Quick Conversations With Cybersecurity Leaders. Like speed dating, our goal is to capture the hearts of CISOs with intriguing, unique insight in a rapid format for security professionals pressed for time.
Our guest this week brings the unique perspective of working in the nonprofit side of cybersecurity. Illena Armstrong, President of Cloud Security Alliance, has an overwhelmingly impressive background of giving back in the technology sector. In this episode of Speed Data, Illena shared her advice for future executives, discussed the importance of teamwork, and explained why empathy is the most powerful trait a leader can possess.
You might think Illena Armstrong never sleeps. The President of Cloud Security Alliance also serves as a fellow, advisor, and board member to several top organizations in the cybersecurity industry while working to promote diversity, inclusion, and equality in the workforce.
A former Cyber Defense Magazine "Top 25 Women in Cybersecurity," Illena is also a member of Chief, a private network that supports and strengthens women in executive leadership. With so much philanthropic work under her belt, it makes sense that Illena leads CSA, a nonprofit dedicated to promoting cloud security best practices.
"CSA is all about contributing to the wider industry and supporting the professionals who are in the trenches every day," Illena said. "Giving back to the community is something I love doing."
Teamwork makes the dream work
As the organization approaches its 15-year anniversary, Illena credits the success of CSA to her amazing team. "Folks here are pretty indefatigable — there's a real commitment," she said. Commitment is something Illena looks for in her own hiring practices, along with a sprinkle of thinking outside the box."
"A little bit of creativity certainly goes a long way," she said. "Creativity in thought, not only to navigate this fast-evolving industry, but also in figuring out how your organization needs to secure your environments.
Obviously, folks need to be skilled in cybersecurity and technology, but there are some though, who — kind of like me — are in this industry and they might not be ginormous tech-heads but they really have that vision of how an organization needs to evolve.
"More importantly these days, cybersecurity professionals have to understand how to work cohesively with other teams since cybersecurity is pretty much foundational to everything we do. It's a team effort."
The importance of soft skills
Illena's humanitarian background is apparent when doling out advice for future cybersecurity professionals.
"Any professional, especially those who have aspirations of being in an executive-level position, need to lead with empathy," she said.
"Those human elements are more important than anything else because if you have this desire to learn about this space, you can do that, but paying attention and perfecting some of those traits like honesty and humility, those are critical to leadership roles in any space, but perhaps more important in this space given how far-reaching cybersecurity is."
What you should do now
Below are three ways we can help you begin your journey to reducing data risk at your company:
Schedule a demo session with us, where we can show you around, answer your questions, and help you see if Varonis is right for you.
Download our free report and learn the risks associated with SaaS data exposure.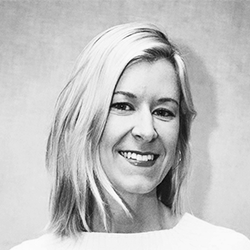 Megan Garza
Megan is the content editor for Varonis and an avid fan of all things AP style. When Megan's not debating whether "cybersecurity" should be one word or two, she loves to travel with her husband and dote unhealthily on their pitbull, Bear.