CISOs face tough choices when it comes to balancing security while getting the most of their cloud solutions.
Kilian Englert and Ryan O'Boyle from the Varonis Cloud Architecture team answer audience questions from the Virtual Connect event about how the CISO of a global communications firm approaches cloud security and minimizes risk across a wide variety of cloud platforms.
Want to get in on all the fun and excitement? Watch the full version of "Tackling SaaS Security: A CISO's Perspective"
And if you'd like to learn more about DatAdvantage Cloud or schedule a demo, go to: https://www.varonis.com/products/datadvantage-cloud/
We're Varonis.
We've been keeping the world's most valuable data out of enemy hands since 2005 with our market-leading data security platform.
How it works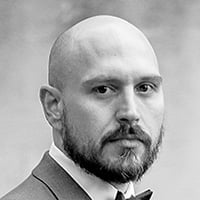 Kilian Englert
Kilian has a background in enterprise security engineering, as well as security solution selling. Kilian is a Certified Information Systems Security Professional (CISSP) and creates internal and public content on topics related to cyber security and technology best practices.