I'm excited to announce today our agreement to acquire Polyrize, a software company whose team and products are a natural fit as part of the Varonis family. This is the first company Varonis has acquired, and I want to give you some background on the strategic rationale for today's announcement.
While companies have been moving data to the cloud for some time, we've seen cloud adoption accelerate this year. This is not surprising, as the spread of COVID-19 has meant that employees – quite literally overnight – needed to begin working from home, and cloud services are naturally suited to anywhere, anytime access. Today, sensitive data is stored in and accessed from more places than ever before. Access grows unchecked in every store, each having its own permissions model and configuration set. User, application and administrative accounts multiply and become difficult to manage.
In other words, organizations are both more reliant on the cloud and more at risk, so protecting sensitive data across new cloud stores is becoming more urgent. This is where the acquisition of Polyrize comes in, and why it makes sense for Varonis and for our customers right now.
Polyrize has developed software to map and analyze the relationships between users and data in cloud data stores like Salesforce, G-suite and Amazon S3, and correlate the disparate accounts used to access these stores. Varonis started mapping the relationships between users and data years ago, first in the on-prem world, and more recently as part of our support for Office 365 and Teams, where we have seen enormous momentum.
By incorporating Polyrize's capabilities into our Data Security Platform, we can extend our coverage, expand our market opportunity, and offer a more complete view into established and emerging enterprise data stores. It's a natural fit.
Wherever the relationships between users and data become complex, Varonis shines. Our technology has helped thousands of organizations visualize their sensitive data, prioritize and remediate risk, and detect and respond to threats in major enterprise data stores. With our acquisition of Polyrize, we accelerate our plans to provide the same level of control and automation to new stores.
If you'd like to hear more about this exciting acquisition, we'd be happy to meet with you for an executive briefing. Please contact your sales team or click here to schedule.
Be well,
Yaki
We're Varonis.
We've been keeping the world's most valuable data out of enemy hands since 2005 with our market-leading data security platform.
How it works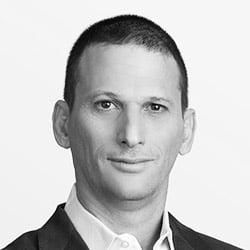 Yaki Faitelson
Co-Founder and CEO of Varonis, responsible for leading the management, strategic direction, and execution of the company.