Google Drive has fast become one of the most used productivity and collaboration suites in the cloud. And as its popularity has risen—along with the amount of data stored on Google Drive servers—it increasingly becomes a target of hackers. Knowing how to secure Google Drive is critical to your organization's cybersecurity posture if it's a platform you rely on.
Thankfully, there are steps you can take toward securing Google Drive. In this article, we'll answer the burning question that many have: Is Google Drive secure? You'll also learn what types of encryption Google Drive offers, tips to protect Google Drive, and how an experienced cybersecurity partner can help implement the right Google Drive security features.
Is Google Drive safe for confidential information?
As one of the most central parts of Google's G-Suite for productivity, Google Drive enjoys many of the same data protections as Google Workspace. In general, the risk of your information being compromised is low on Google Drive. All files uploaded to Google Drive are stored in secure, encrypted data centers.
While storing confidential information on Google Drive is generally safe, there are certain vulnerabilities that could theoretically be exploited. Most common is a careless employee giving away their credentials on accident via a Phishing attack, for instance. And all security keys are held by Google themselves, making data potentially vulnerable to a successful hack of Google.
Ultimately, securing your confidential data in Google Drive falls under what's called a Shared Responsibility Model. Under this model, you the customer assume responsibility and management of the operating system, including updates, security patches, and, most important of them all, securing the data within. So while Google does what it can to deter hackers, organizations also need to be responsible for areas like password protection, access controls, and user authentication.
Get the Free Essential Guide to US Data Protection Compliance and Regulations
What kind of encryption does Google Drive offer?
From a technical standpoint, Google Drive utilizes 256-bit SSL/TLS encryption for files that are in transit and 128-bit AES keys for files at rest. This means that Google Drive ups the encryption and security levels when you're uploading or downloading files and documents. However, 128-bit encryption for stored files is still quite robust.
Google Drive also uses what's called Server-Side Encryption, as opposed to User-Side Encryption. As alluded to previously, Server-Side Encryption means that all decrypted keys are handled by those who own the servers. In this case, that's Google. At the same time, Google does offer customer-managed and supplied encryption key options as additional server-side security layers.
So, while Google Drive does offer a reasonably robust level of encryption, there are vulnerabilities. Meaning you'll want to take additional steps to further encrypt Google Drive files, especially if you're using Google Workspace to handle confidential information.
8 tips for making Google Drive more secure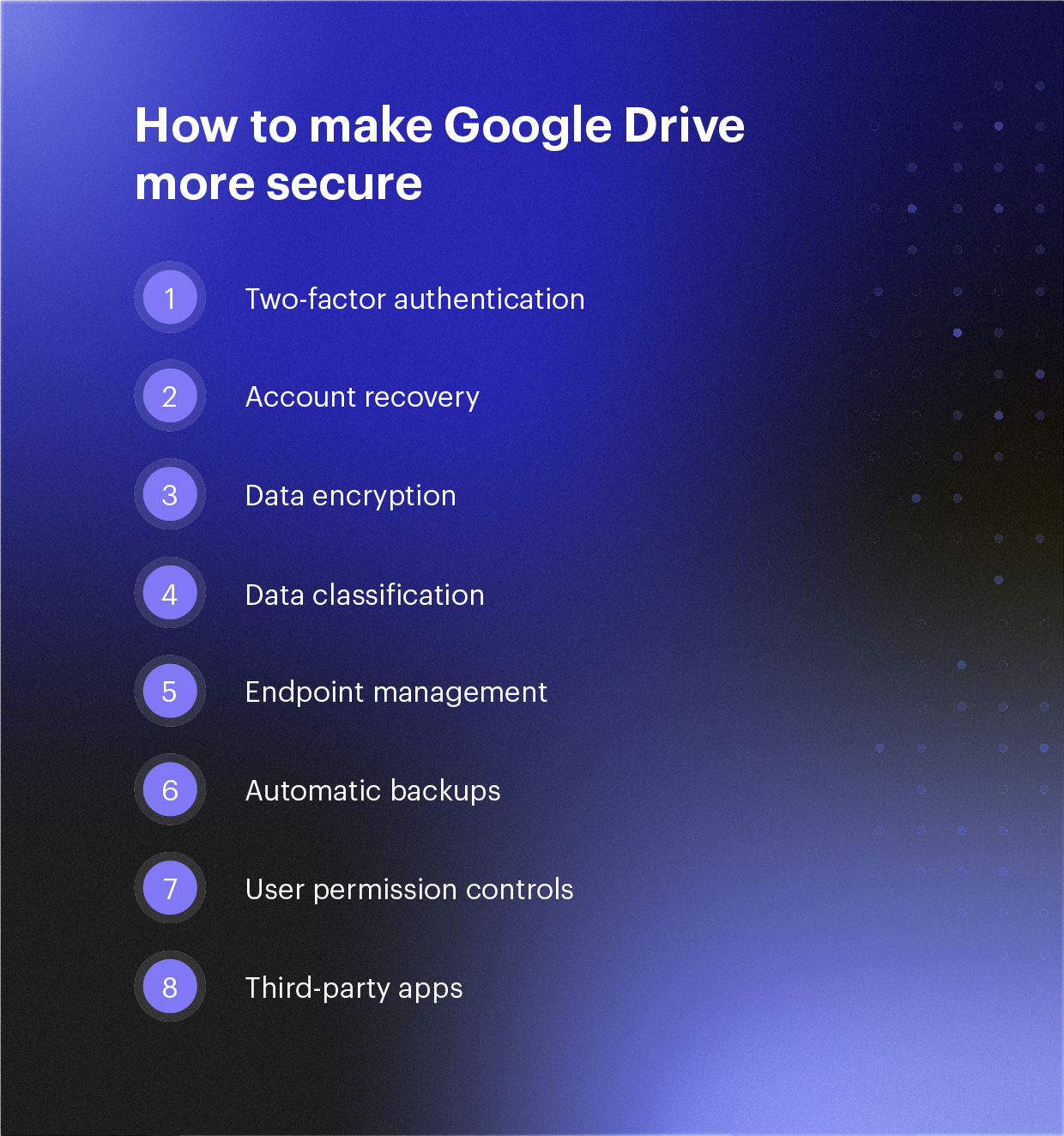 Securing Google Drive for businesses that choose to work with confidential, sensitive, or private information on the G-Suite cloud can be done. Here are some data security tips and tricks, from the best Google Drive privacy settings to data classification tools.
1. Use two-factor authentication (2FA)
Fortunately, Google Drive comes equipped with robust secure login options including two-factor authentication. By enabling 2FA on Google Drive, every user will be required to provide two pieces of valid information before accessing a Google Account. This includes a combination of things like passwords, SMS verification, or one-time passwords sent to a mobile device.
By enabling Google Drive's 2FA functionality, hackers will still have a difficult time accessing your data even if they have the right usernames and passwords. This will reduce the effectiveness of any phishing or social engineering attacks. Even if an employee is careless with their credentials, 2FA will prevent many unauthorized login attempts.
2. Setup recovery on your account
In certain instances, users may accidentally leave their Google Drive account open and need to recover it completely. The account may be left open on a public computer, had their password guessed by a hacker, or left their computer unlocked resulting in unauthorized access. Fortunately, Google Drive does provide account recovery options in the setup.
Setting up Google Drive recovery options ensures that the account can be quickly and easily re-secured if any of the above scenarios take place. While you can customize how users can securely recover their accounts, typical methods include answering a security question, mobile phone login, and alternate email verification.
3. Use data encryption
Google now offers client-side encryption functions, in beta mode, for the entire suite of Google Workspace tools. Businesses can now use their own encryption keys, in addition to the default encryption within G-Suite. You'll have direct control of your keys -- along with how users access their keys and accounts -- to further strengthen Google Drive data security.
Alternatively, you may use a third-party encryption tool, partner, or service provider. Going with a third-party encryption option can be extra helpful if you're dealing with complex compliance frameworks or highly sensitive intellectual property. Partners help ensure that your Google Drive encryption matches relevant compliance frameworks and that access to your most sensitive data is safeguarded with top-notch client-side encryption.
4. Consider data classification
Data classification is the categorization and tagging of data that enables IT teams to protect information appropriately. With data classification, business users can work with data more effectively. For the purposes of securing Google Drive, data classification also ensures that only authorized individuals access the right data.
For instance, one of your customer service representatives should not be able to accidentally access Google Drive files with confidential financial data that should only be available to the C-Suite. Some data classification tools can also sort out which types of data are most vulnerable to attack, allowing you to take extra precautions with those categories.
5. Set up endpoint management
Endpoint management tools provide total control over every device accessing your Google Drive data. Endpoint management tools allow you to require screen locks, erase confidential data, and selectively wipe accounts if devices are lost or compromised. You can even block access from desktop sessions in real-time.
With endpoint management tools you can also track who is logging in, at what time, and their activities. Endpoint management is designed to monitor and protect any and all potential entry points that hackers might use to access your Google Drive data. Your data will be better protected, and you can make more informed decisions with the data you get from monitoring.
6. Automate backup processes
You'll want to regularly backup all business-critical files on your Google drive -- and automate this process -- to mitigate risks to business disruption. Manual backups are often more time-intensive and can prevent users from being productive during backup periods where files are inaccessible.
To enable backup process automation, use the Backup and Sync option provided by Google. This provides two-way synchronization of their hard drive with their Google Drive. Backup and Sync is a consumer-facing client that automatically backs up and stores your data locally. You may also use more advanced backup automation tools from a third-party provider like Varonis.
7. Control user permissions in the application
Administrators have the ability to monitor and control which apps and Google services each user can access, including Google Drive. You should enforce a least-privilege access model, meaning that users can only access the files, data, and systems that are sufficient to perform their job functions.
Google Drive provides a wide-ranging set of user permission options. You can restrict file-sharing to only within the organization, for instance, so even if a Google Doc link is accidentally shared with an outsider, they still won't have access. You can also restrict access to users with certain domains as an extra layer of control.
8. Third-party apps
Finally, you can employ third-party apps that are purpose-built for enhancing Google Drive access controls and overall security. For example, there are third-party client-side encryption applications that use zero-knowledge encryption, meaning that not even the service provider has access to the keys (unlike Google).
Other apps to consider using are around the areas of endpoint detection, threat monitoring, cloud security, and email encryption. Third-party apps are highly beneficial because they tend to streamline and automate many processes around Google Drive security while filling in any gaps that Google themselves don't provide within G-Suite.
How Varonis can help
As experienced cybersecurity and cloud protection experts, Varonis offers a range of capabilities that will help further secure your confidential data stored in Google Drive. Varonis offers file auditing, alerting, permissions visibility, and data classification technology designed to protect G-Suite data.
For instance, the Varonis Data Classification Cloud automatically detects sensitive files to prevent data exposure from taking place. Varonis looks inside files to find sensitive information that matches over 400 classification patterns, showing you what's exposed to the internet or any unauthorized employees.
Varonis for Google Drive allows you to normalize and analyze permissions, visualize excessive external sharing, spot personal account activity, and uncover risky misconfigurations. By integrating permissions, user activity, and data sensitivity, you can identify and address exposures. Varonis solutions can also help detect internal and external threats and accelerate cross-cloud investigations.
Google Drive FAQ
Read on for some frequently asked questions about Google Drive security.
Q: Can Google Drive be hacked?
A: Theoretically, yes. But hackers would need to conduct a successful phishing or ransomware attack directly against Google, which is a tall task. Google Drive has not been hacked to date, although a system administrator recently flagged a flaw in the cloud storage system that could have been used to trick users into downloading malware.
Q: Can you password protect a Google Drive folder?
A: Yes. In fact, technically every Google Drive Folder or File is password protected until you share it with someone else. Once you share a file or folder there are various share settings you can choose to maintain privacy. However, you cannot designate specific passwords for specific files and documents within Google Drive.
Q: Does Google Drive use end-to-end encryption?
A: No. While you retain ownership of any intellectual property, Google is authorized to scan your documents for information and keywords to improve its ad targeting. This is included in the terms of service. Google also retains the right to hand over your data to legal authorities if presented with a warrant.
Q: Is Google Drive safe for confidential information?
A: Generally, yes. The biggest threat to confidential data being exposed is through the fault of your internal staff. While the threat of Google being hacked and your private information being exposed directly is very small, it's possible that an employee could give away their credentials via a phishing attack, increasing the possibility of data exposure if 2FA isn't enabled.
Having the right technologies, tactics, and partnerships in place for secure file sharing will go a long way towards protecting confidential data in Google Drive. While Google cloud server security is generally top-notch, there are potential vulnerabilities. In addition, internal staff can potentially misuse their credentials or expose data unintentionally.
Make Google Drive security a priority by following some of the tips we've shared here and consider enlisting a cybersecurity partner like Varonis to implement additional measures like data classification and cloud security.
What you should do now
Below are three ways we can help you begin your journey to reducing data risk at your company:
Schedule a demo session with us, where we can show you around, answer your questions, and help you see if Varonis is right for you.
Download our free report and learn the risks associated with SaaS data exposure.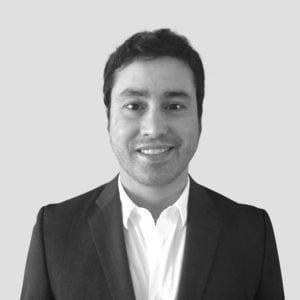 David Harrington
David is a professional writer and thought leadership consultant for enterprise technology brands, startups and venture capital firms.