Varonis for Active Directory
Reduce your Active Directory blast radius.
Uncover and fix risky misconfigurations
Monitor Active Directory and Azure AD events
Detect and alert on behavior anomalies
Shut down hidden attack paths.
Varonis helps you find and fix AD misconfigurations that hackers commonly exploit to gain access, move laterally, persist, and ultimately steal your data.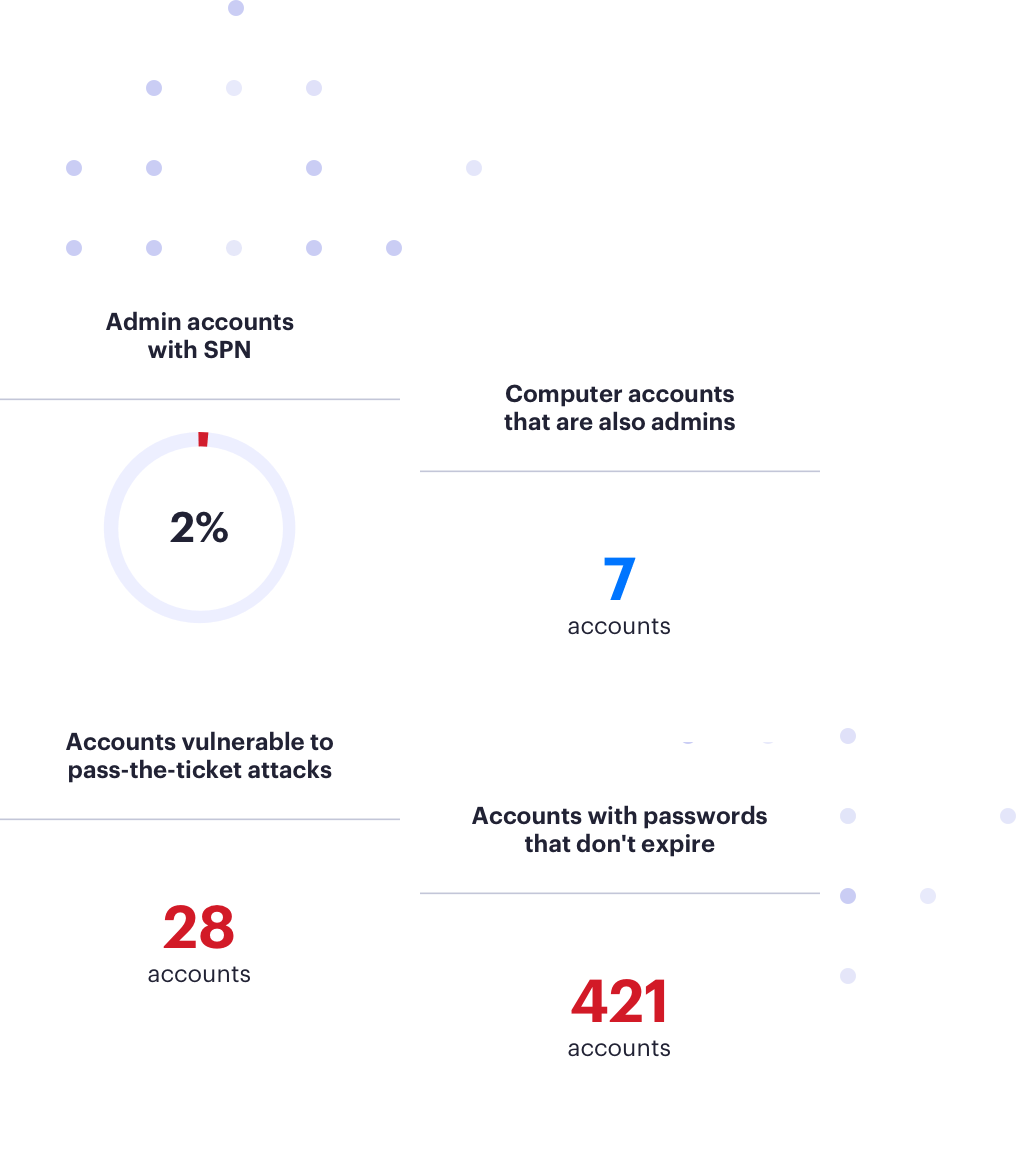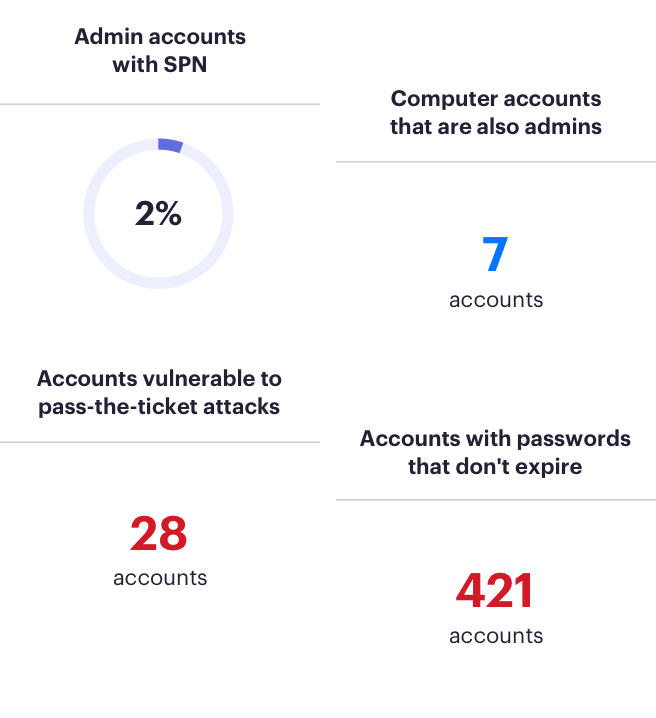 Not your typical Active Directory monitoring.
By correlating AD events with data access and network activity, Varonis can spot behavioral anomalies like a service account accessing sensitive data from a personal device.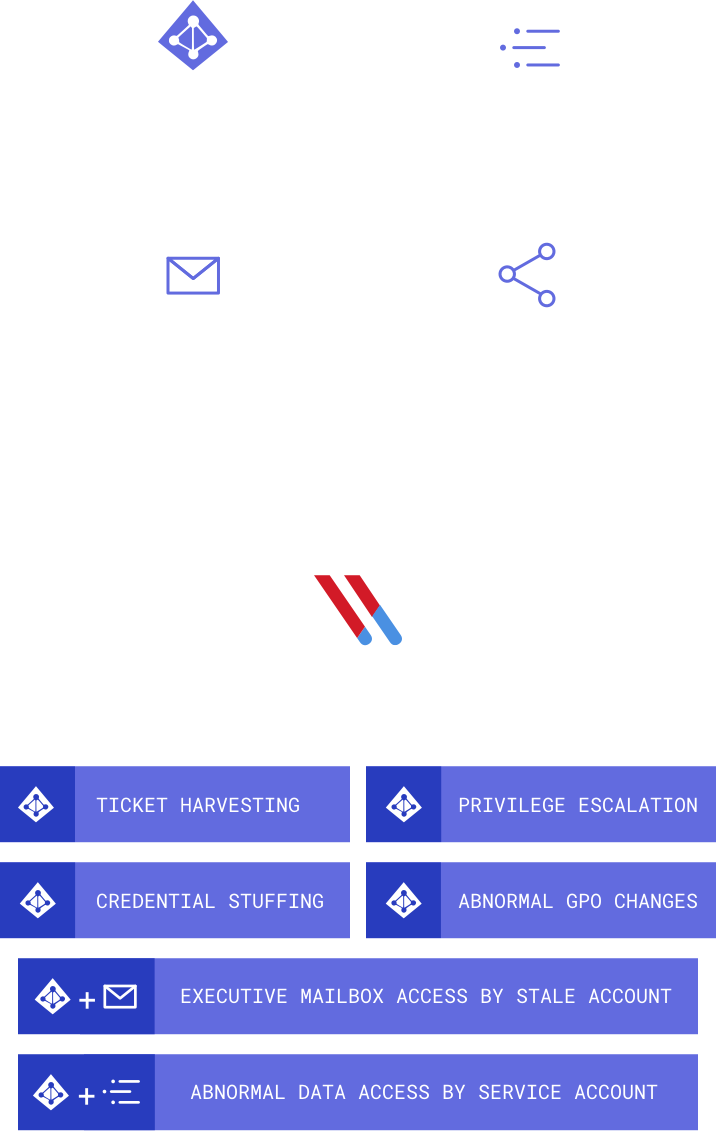 Capture every important action at petabyte scale.
Varonis creates a normalized record of every important action on your mission-critical systems—without endpoint agents. Admins and analysts have a complete history of AD objects, files, folders, permissions, mailboxes, and more at their fingertips.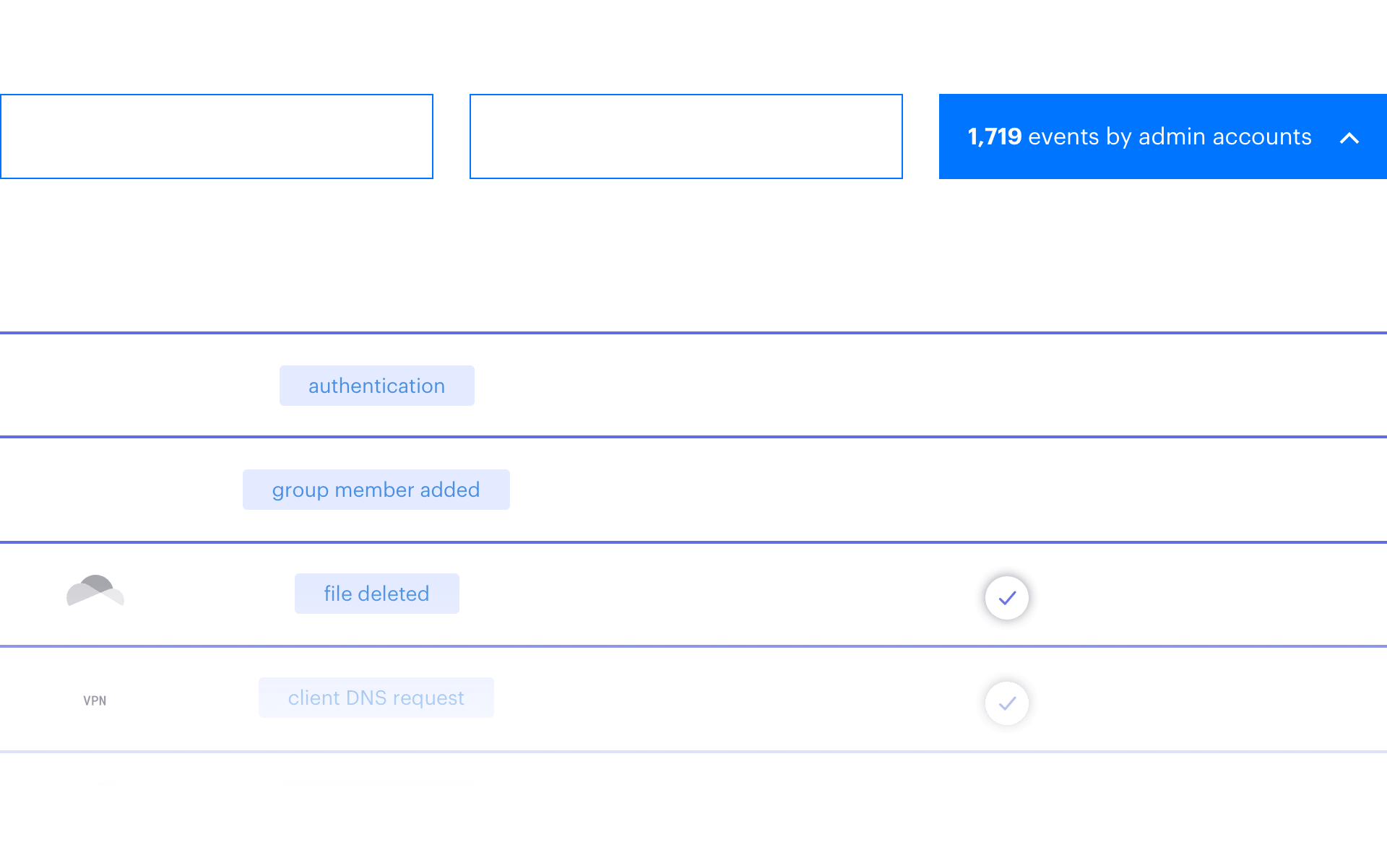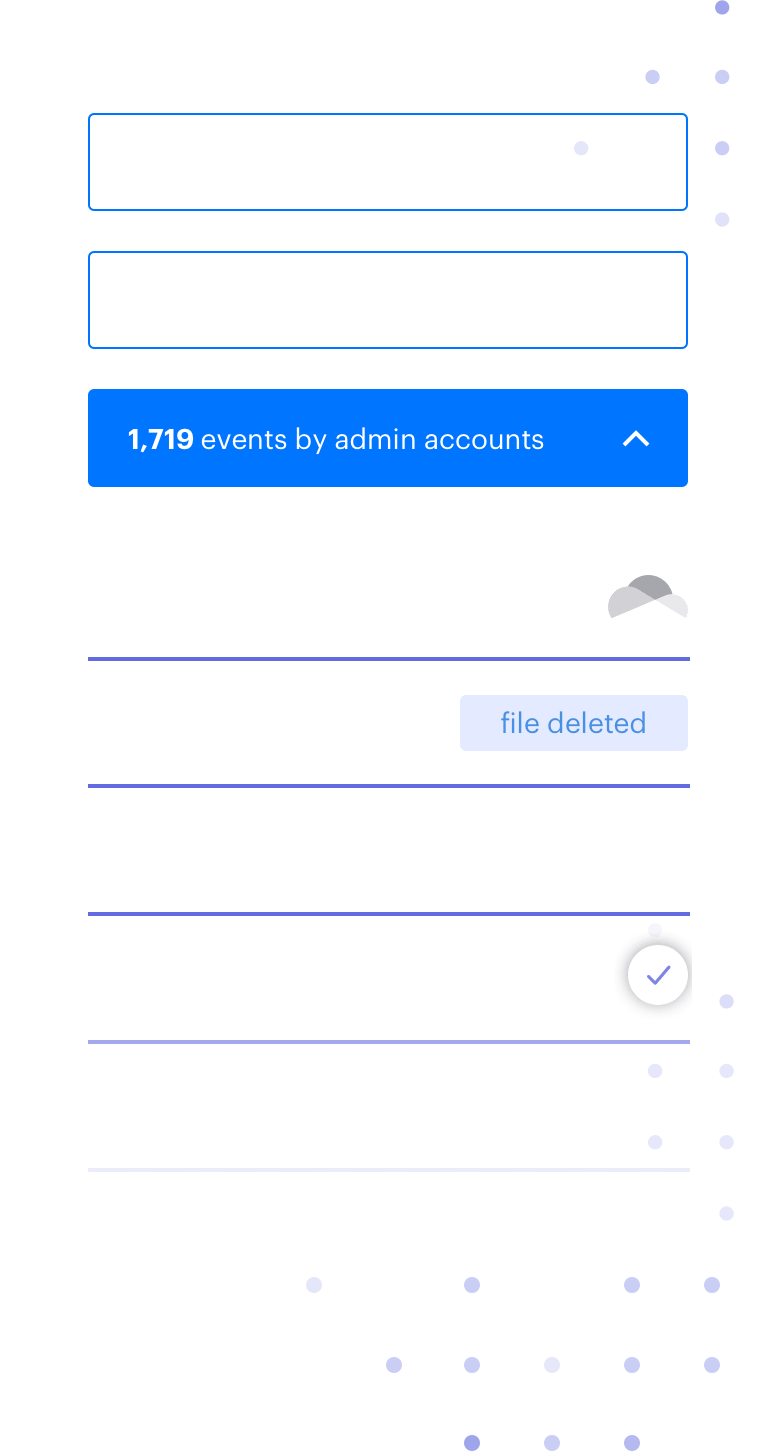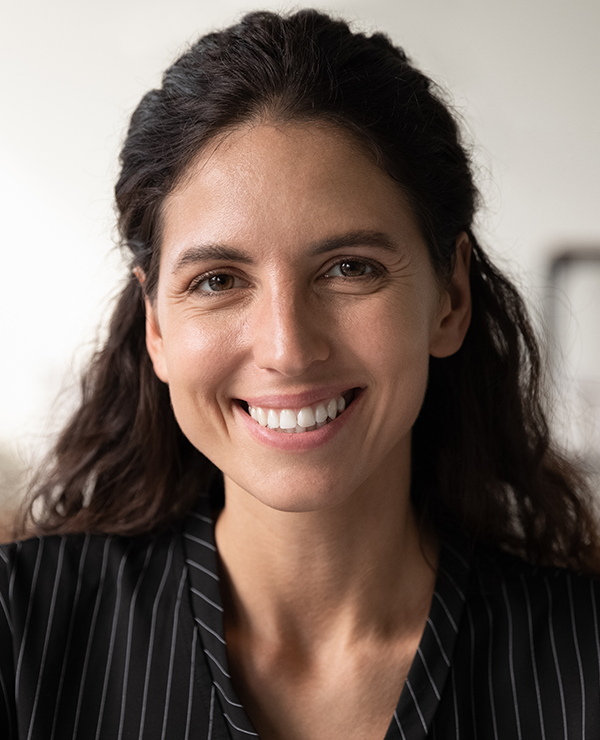 No-cost incident response and forensics team.
Our global team of security analysts is here to help all customers and trial users investigate any incident for free.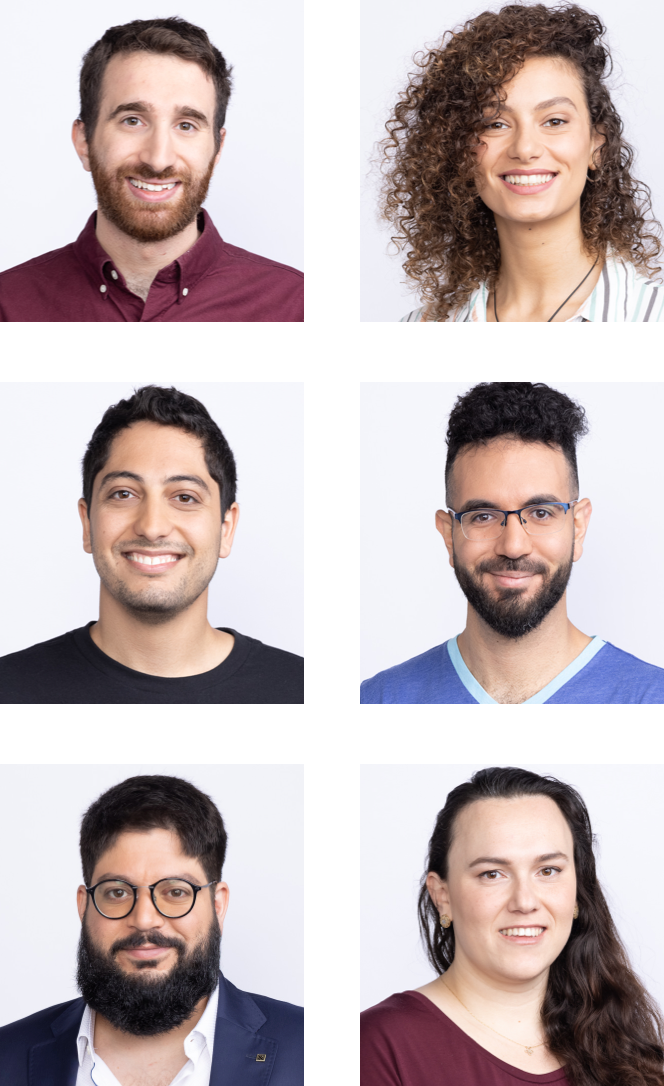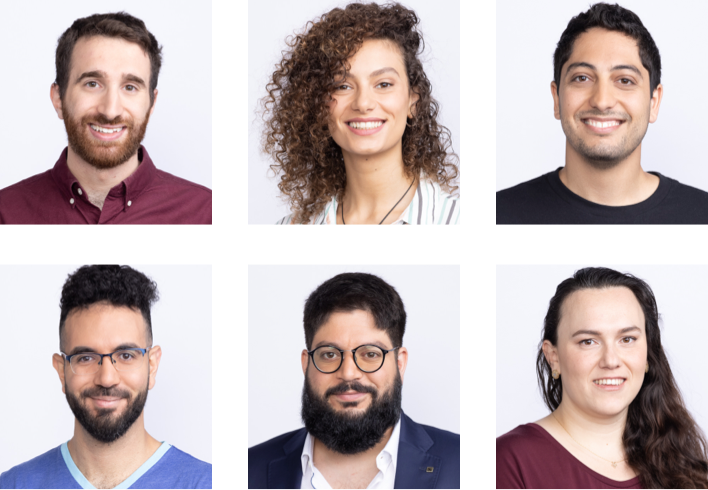 Key features
---
Real-time awareness of AD risk
Dashboards provide a high-level view of your Active Directory and Azure AD vulnerabilities, so you can analyze your gaps, prioritize your biggest risks, and demonstrate progress over time.
---
Domain visualization
Easily visualize all your domain and local users, groups, and objects in a simple-to-use interface and quickly answer questions like, "Who can change critical settings like adding users to privileged groups?"
---
Unified audit trail
With a human-readable audit trail, admins or security analysts are only a few clicks away from viewing all activity and events in Active Directory—right alongside their sensitive file opens, email sends, web requests, and VPN logins.
---
Pre-defined audit reports
Report on key risk indicators, shadow accounts, user & group changes, GPO modifications, and more. Run reports on-demand or email them on a schedule.
---
---
Change management and rollback
Our multi-threaded commit engine can simulate access control changes in a sandbox and execute them when you're ready. Schedule actions for a change control window and rollback if needed.
---
Privileged account discovery
Varonis auto-discovers executives, service accounts, and admins based on user behavior, group memberships, and other metadata.
---
Privileged account monitoring
Track enrolment of new admins, admin account changes, and segregation of duty violations by admins.
---
SIEM integration
Send hi-fidelity data-centric alerts to your SIEM for correlation via syslog, SNMP, or one of our ready-made connectors.
---