Varonis for SaaS and IaaS
Detect, prioritize, and remediate security risks and compliance issues across your mission-critical SaaS and multi-cloud data.
Trusted by 7,000+ companies worldwide
The #1 SaaS Data Security Platform
Varonis provides real-time visibility and control over your cloud data. We reduce your blast radius, detect anomalous behavior, and continually improve your security posture with industry-leading automation.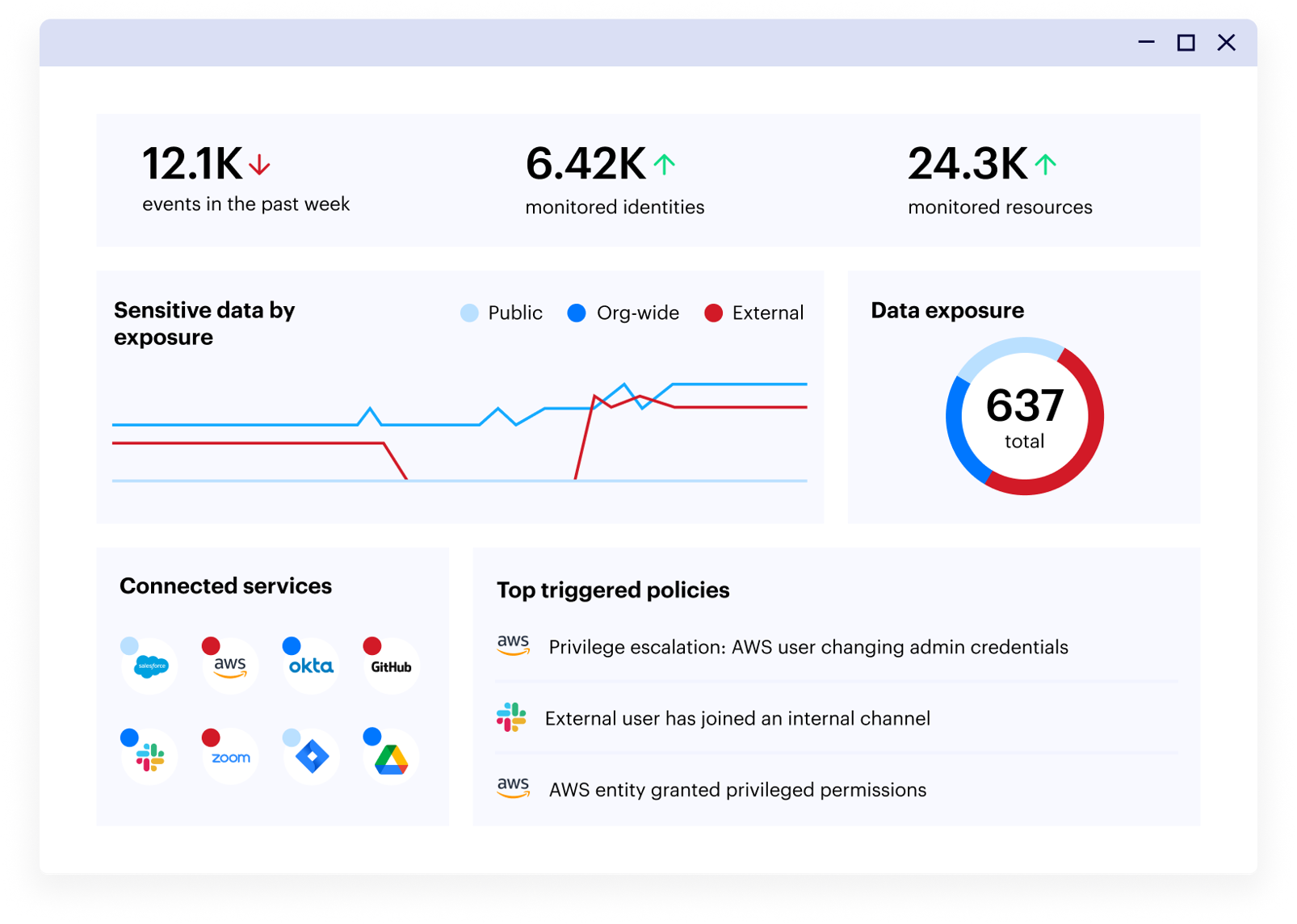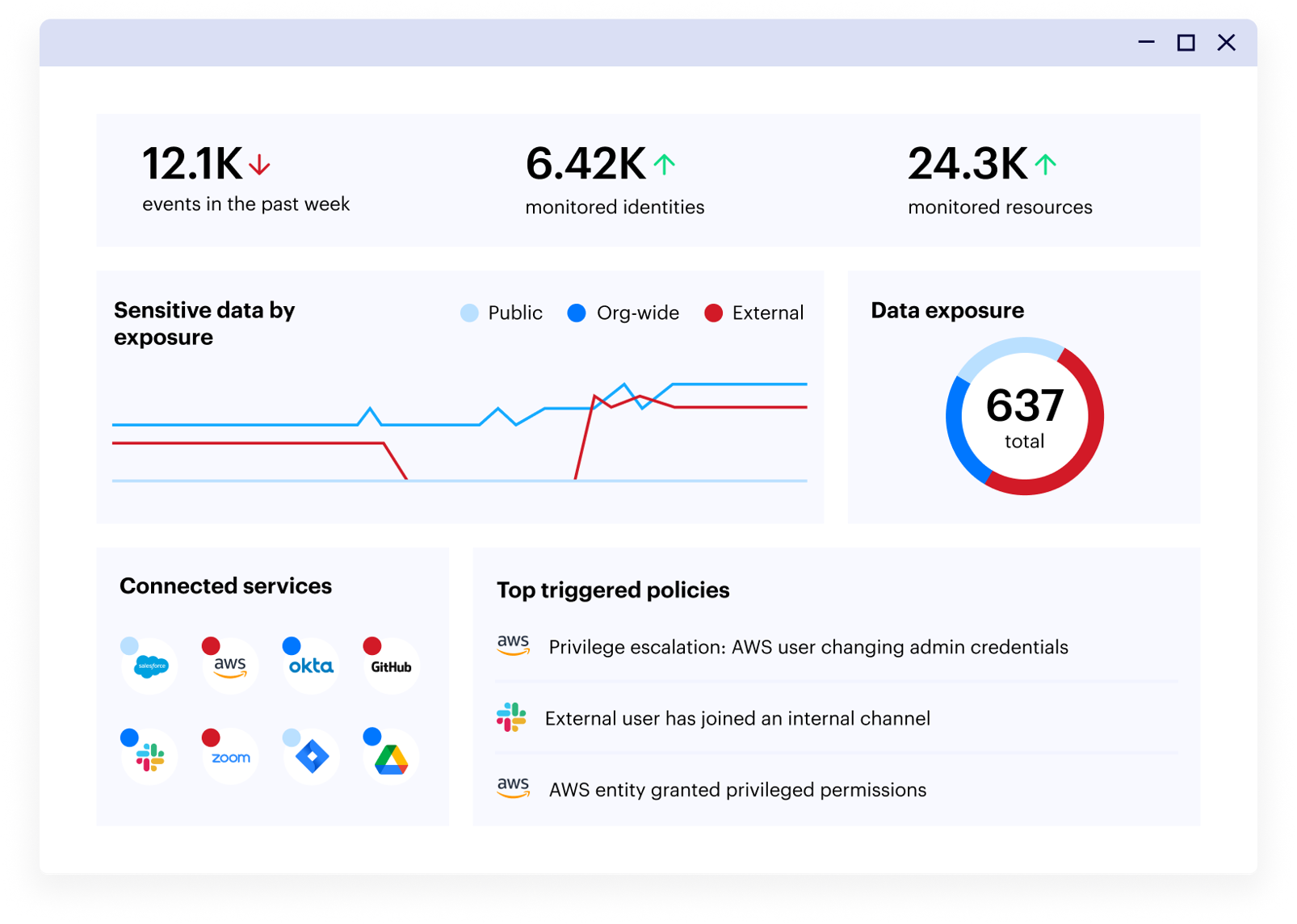 Protect
Data access intelligence
Varonis maps and normalizes permissions across SaaS and IaaS platforms into a simple create, read, update, delete, and share model (CRUDS). By correlating cross-cloud identities with privileges and activity, Varonis visualizes and prioritizes your biggest risks so you can proactively reduce your blast radius.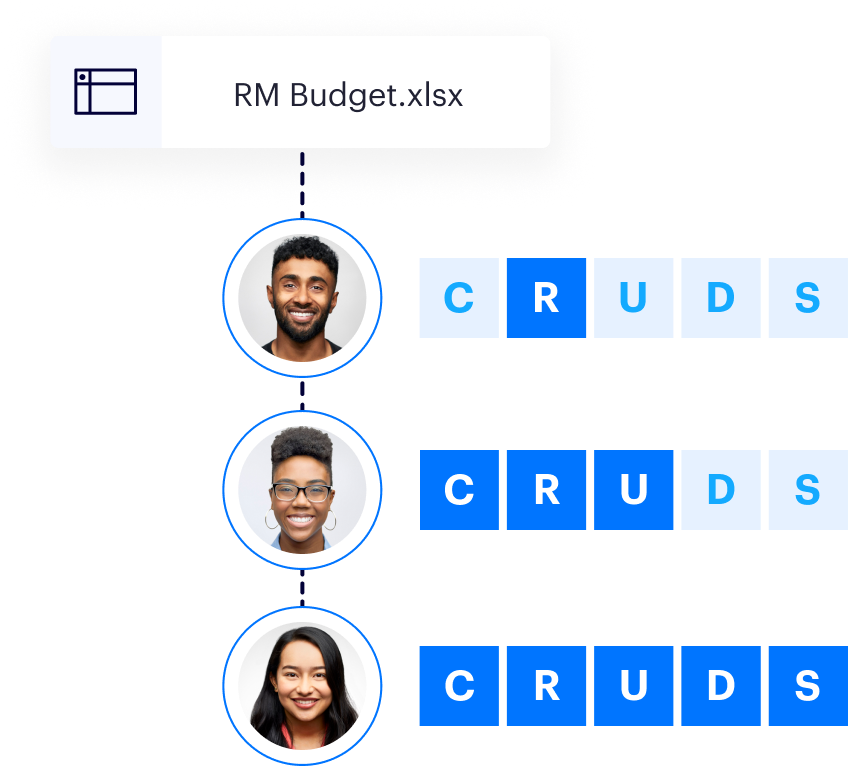 Classify
Context-rich data classification
Automatically discover where sensitive data might be hiding in your SaaS and IaaS apps like Salesforce, AWS S3, Google Drive, and Box. Varonis looks inside files to
find sensitive information
matching hundreds of classification patterns and vigorously prioritizes remediation based on exposure.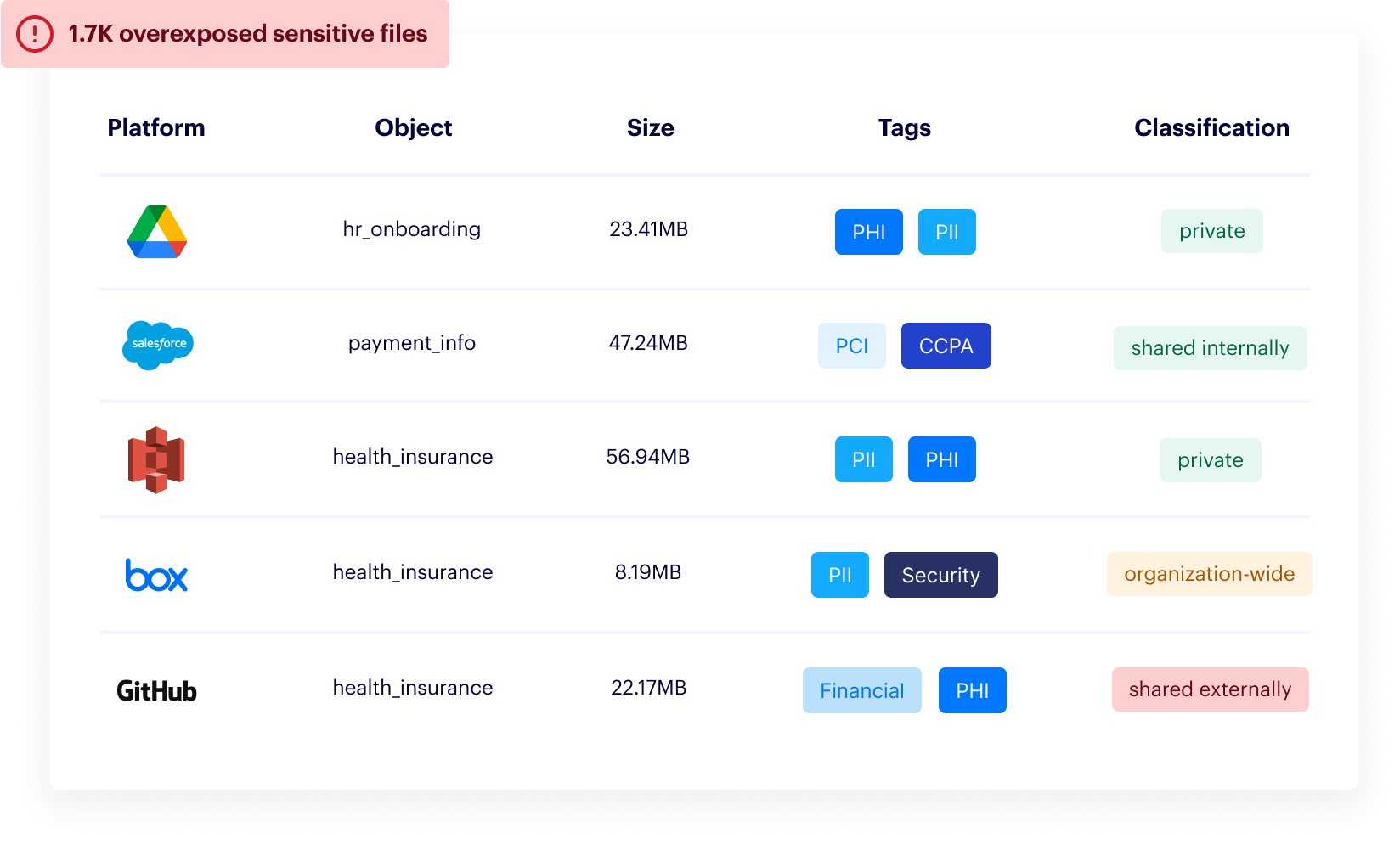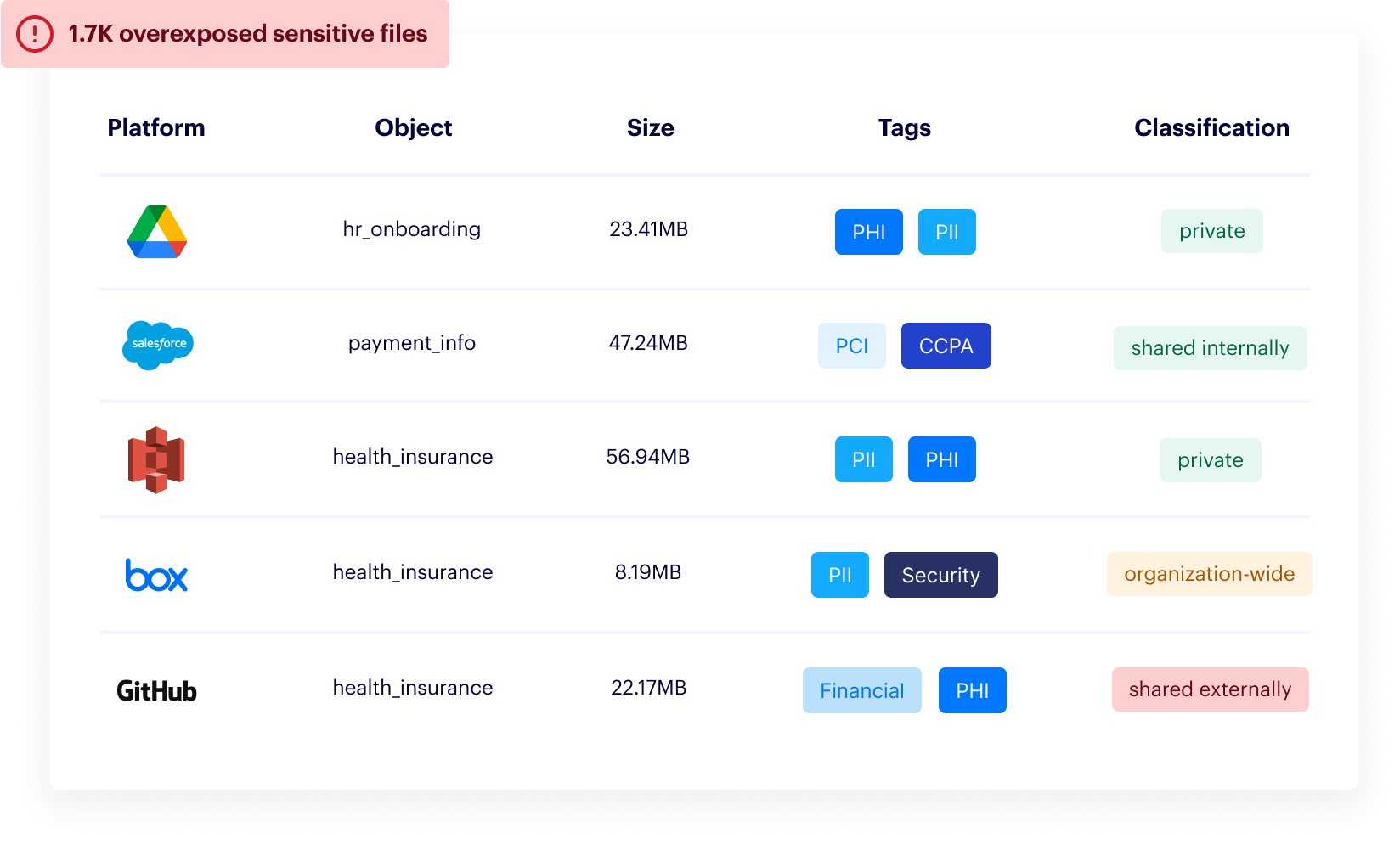 Detect
Cloud detection and response
Use built-in threat models or configure your own alerts to detect suspicious behavior like ransomware, data exfiltration, and unauthorized data access across your SaaS environments. Make investigations faster and more effective by monitoring how users interact with data and logging a complete audit trail of data access activity. Filter and sort the audit trail by user, event type, or cloud app.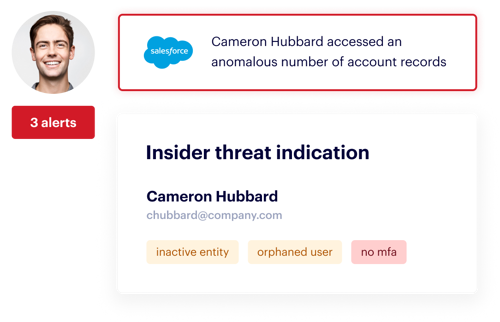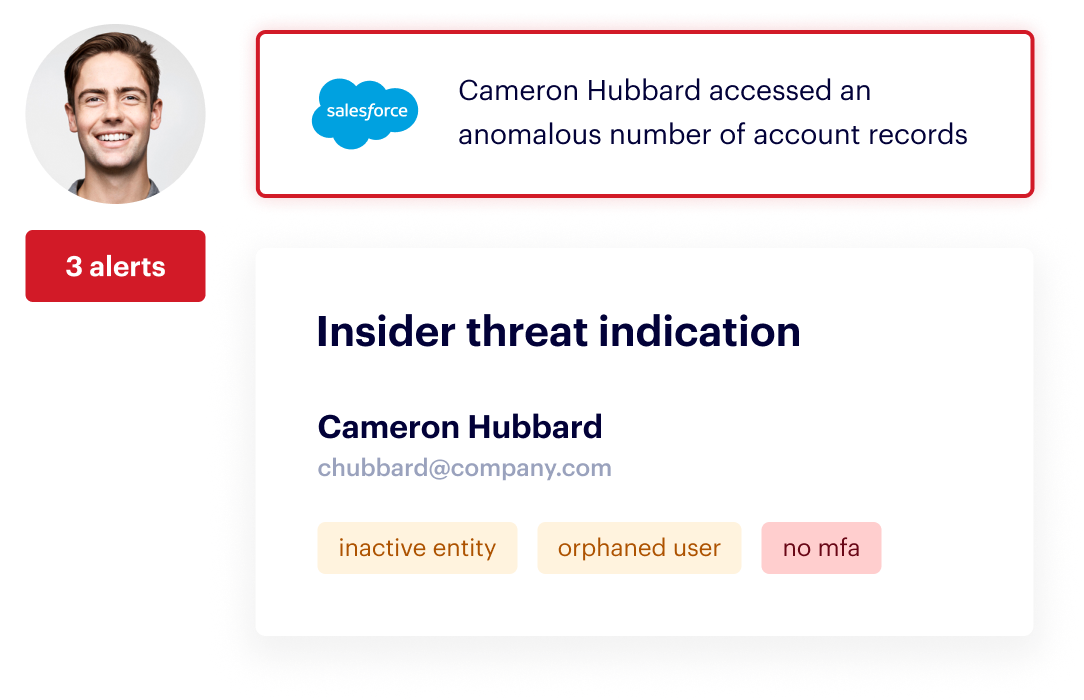 Remediate
Automated Posture Management
Varonis surfaces critical misconfigurations across your SaaS and IaaS platforms that put your organization at risk. Automatically remediate these misconfigurations with a simple click of a button to improve your SaaS security posture and eliminate attack paths to critical data.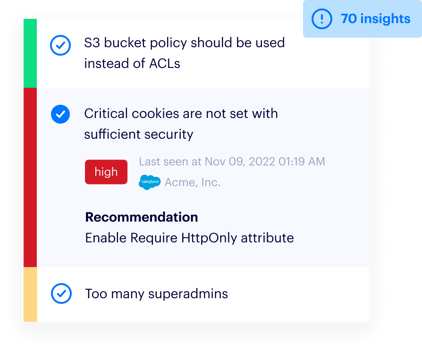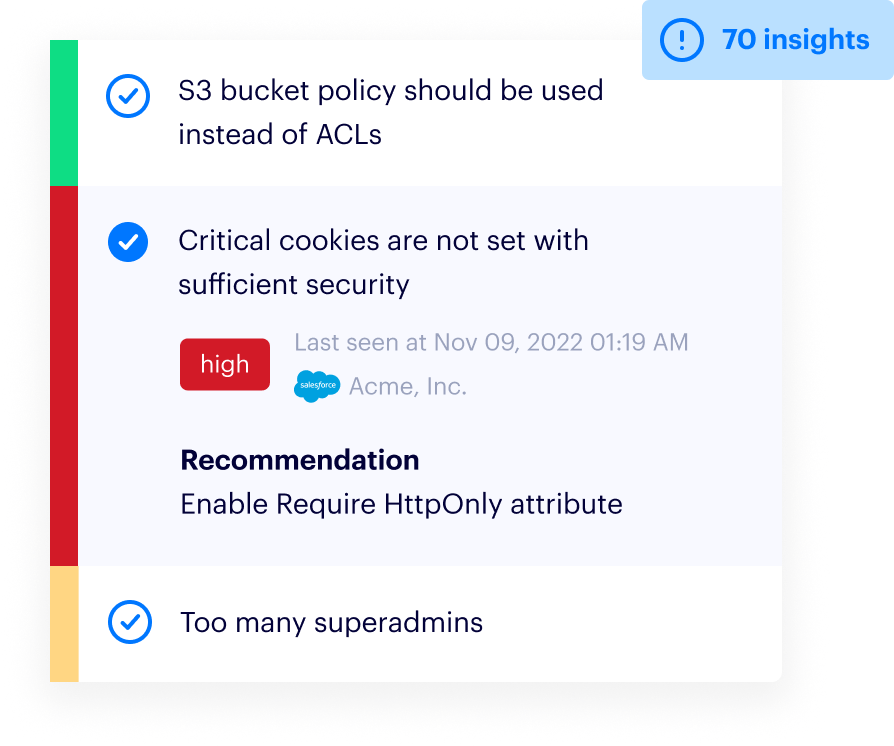 Discover
Third-party app risk management
Easily discover all the third-party apps connected to your corporate cloud platforms and gain a clear view of the risks they pose. Varonis enables organizations to better understand each app's blast radius, monitor app activity, and remove unsanctioned or unused app connections — right from a single console.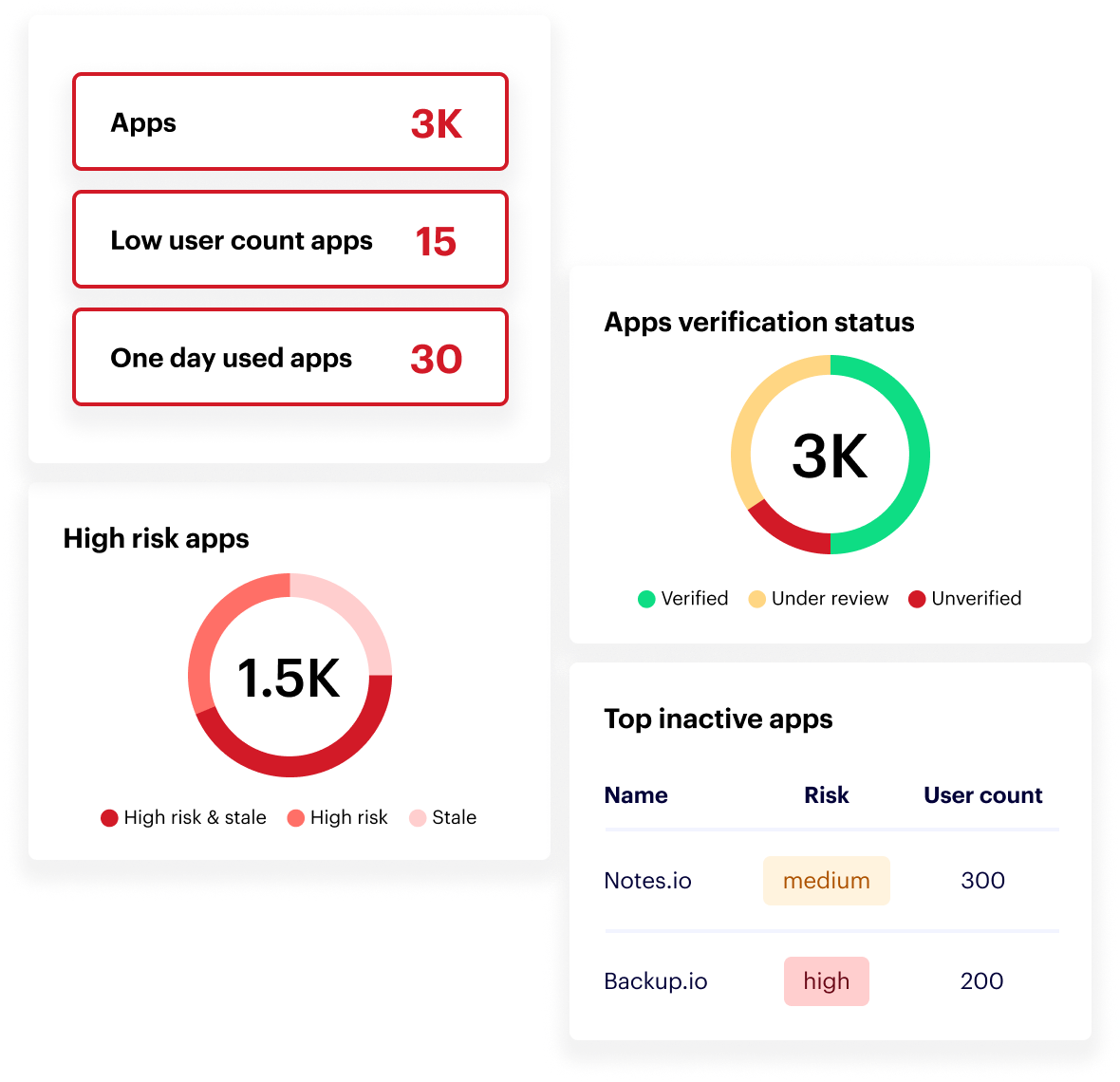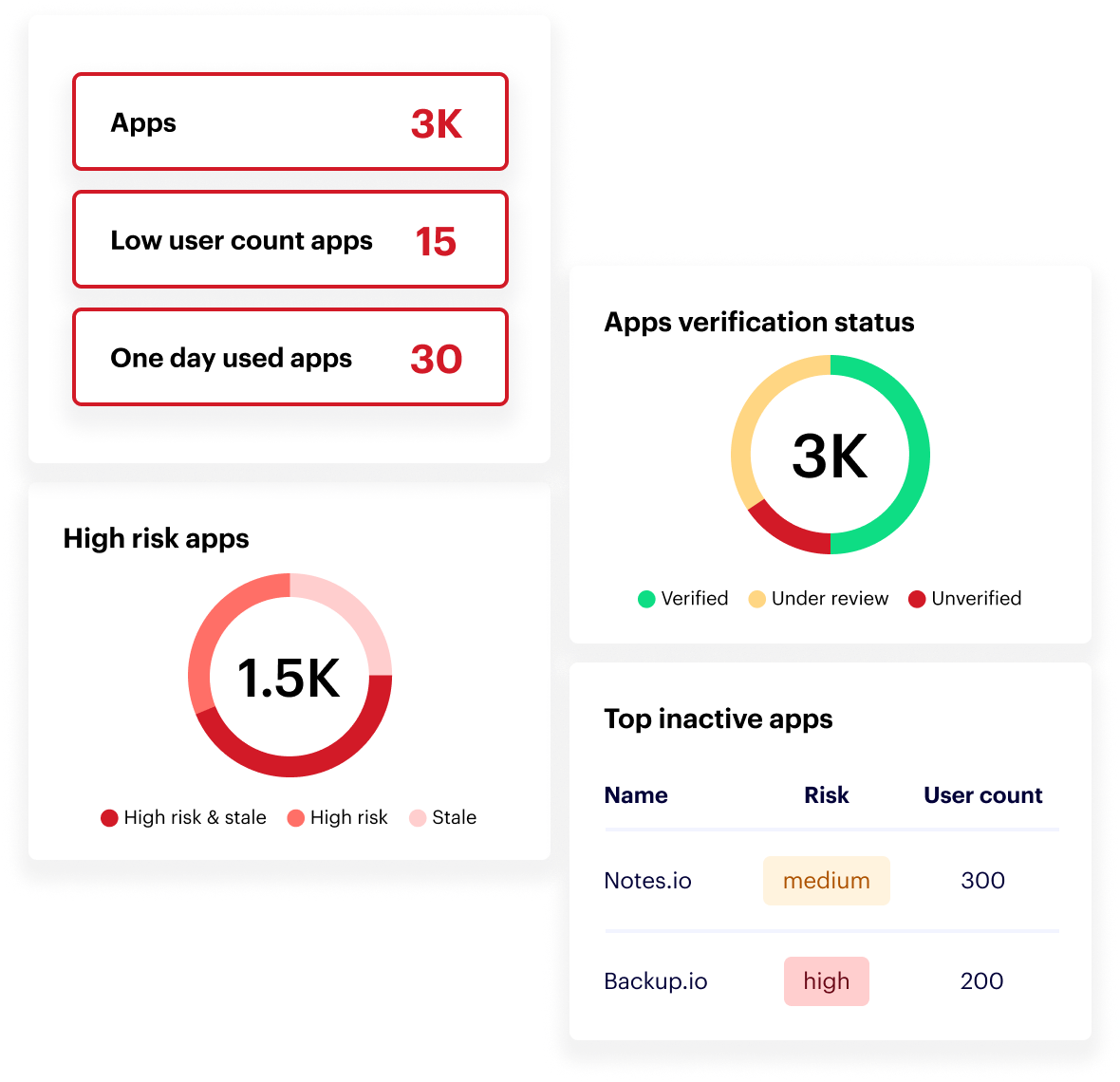 Integrations
Protection for your SaaS and cloud apps
Instead of dozens of siloed admin portals that provide partial visibility, Varonis offers comprehensive data security across your SaaS apps. The unified console helps your team easily understand data risk and how to minimize it.
Key features
Sensitive data and secrets discovery
Surface improperly stored and overexposed sensitive data and secrets (e.g., API keys, database credentials, encryption certificates, etc.) in your cloud data stores.
Cloud data loss prevention
Apply enhanced monitoring to external and guest users and track risky sharing of sensitive information.
SaaS permissions remediation
Get a clear view of permissions across your cloud services with recommendations to eliminate excessive, inappropriate, or unused privileges.
Automated posture management
Automatically surface critical cloud misconfigurations and fix them with a click of a button to improve your cloud security posture.
Shadow identity discovery
Uncover high-risk, over-privileged shadow identities lurking in your corporate cloud services — from personal accounts to application tokens.
Cross-cloud policy enforcement
Out-of-the-box and custom policies help you spot risky configurations, data exposure changes, and deviations from service best practices.
Privileged account monitoring
Track enrollment of new admins, admin account changes, and segregation of duty violations by admins.
Stale identity removal and secure offboarding
Remove unused admin accounts and stale privileged users, and terminated external contractors.
Unmanaged, non-SSO user tracking
Easily track down non-federated personal accounts logging into your corporate cloud services.
Cloud-native API deployment
Simply point DatAdvantage Cloud at your existing cloud services and identity providers without any complex architecture changes or proxies.
Get started with our world-famous Data Risk Assessment.
Critical findings report
1x1 with a data security expert
Full access to the entire Varonis Data Security Platform
Get started in 15 minutes