Varonis for Microsoft 365
Complete your Microsoft 365 security stack.
Visualize and reduce your attack surface
Classify sensitive data with pinpoint accuracy
Alert faster with less noise
Why is Microsoft 365 so hard to protect?
The capacity to create, share, and expose data has far exceeded the ability to protect it. End users can break zero trust with just a couple of clicks—from any number of apps.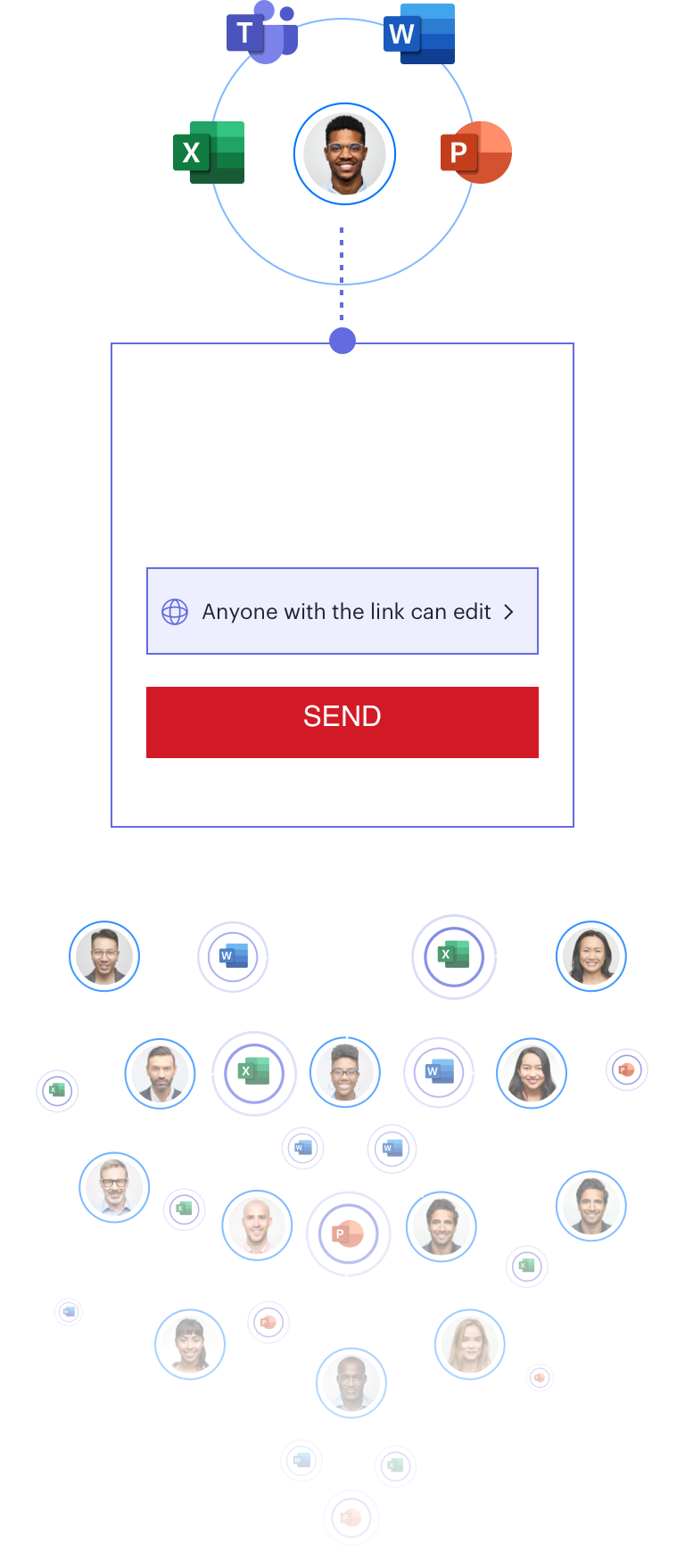 Varonis gives you back control.
You can't reduce risk you can't see.
Varonis helps you see and reduce collaboration risk by continually crawling and analyzing permissions. Group memberships, direct permissions, sharing links—we leave no stone unturned.


Imagine getting instant and accurate answers to questions like:


Which sensitive files are exposed to anyone on the internet?


Which sensitive files are exposed to all employees?


Which sites, Teams, or OneDrives have the most sensitive data?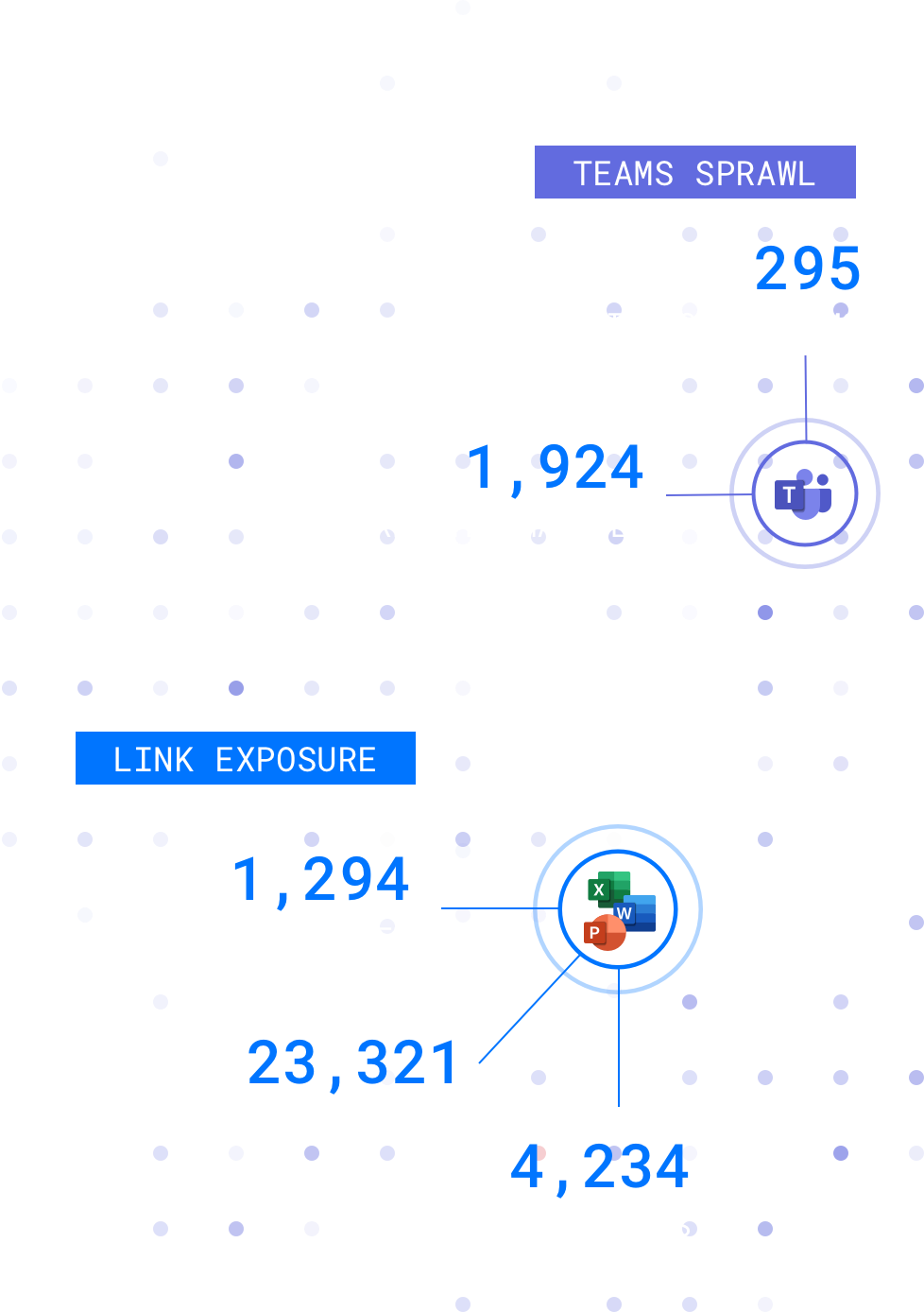 Don't settle for kind-of-accurate classification.
Our vast library of policies goes beyond regular expressions with proximity matching, negative keywords, and algorithmic verification to generate deadly accurate results.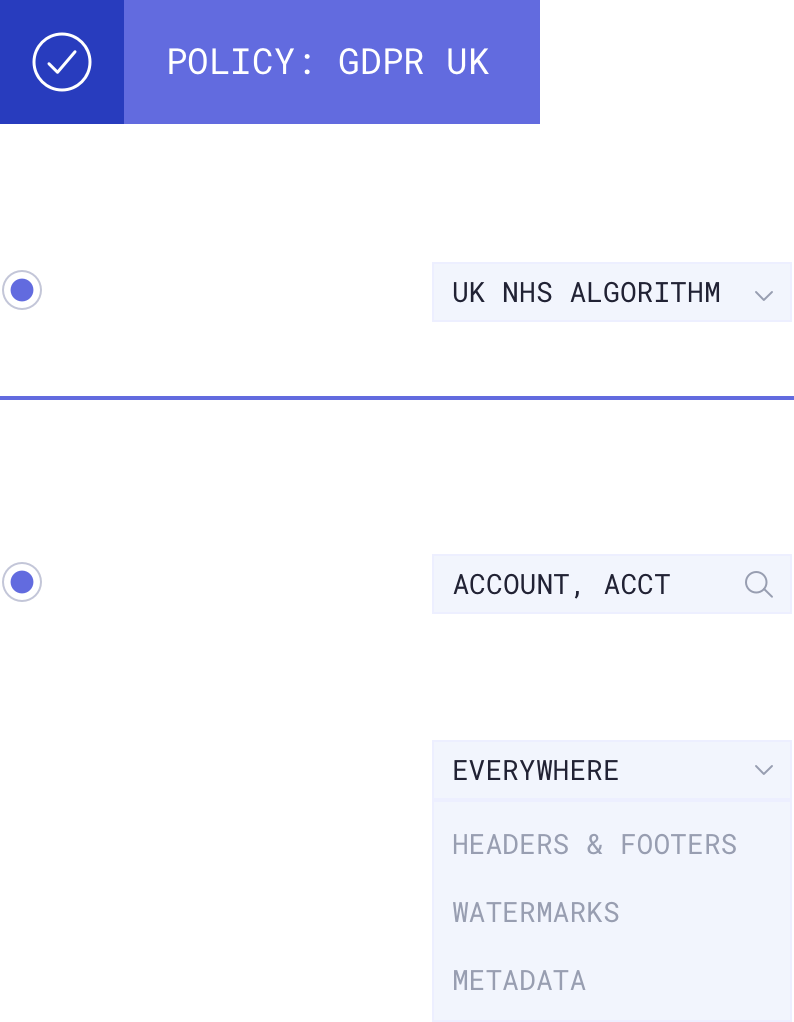 You can't get much done with a flat list of sensitive files.
Varonis gives you a hierarchical view that helps you prioritize sites, folders, and Teams based on concentration of risk. See your 365 tenants and on-prem systems through a single pane of glass.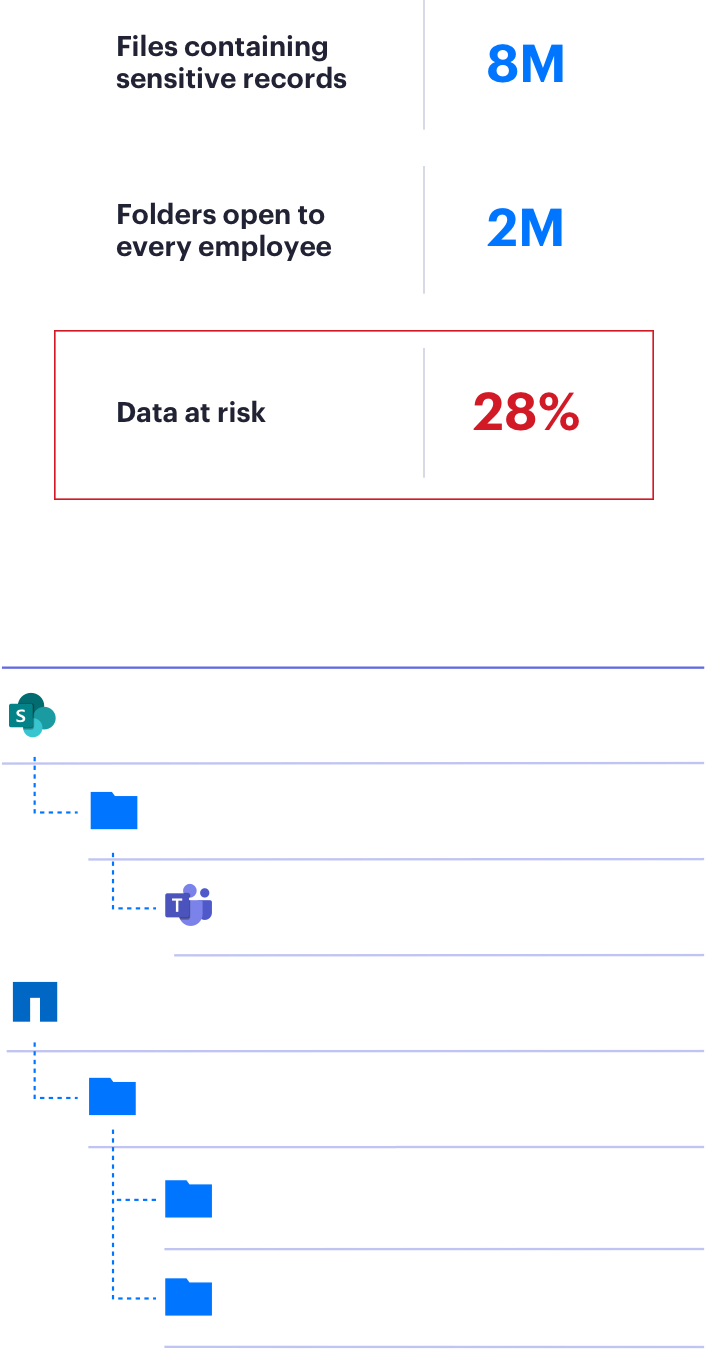 Noise-cancelling threat detection.
Varonis expands your field of vision by combining activity from Microsoft 365 and Azure AD with on-prem and perimeter telemetry to build more complete threat models.
Our behavior-based detections deliver only alerts that matter. Our enriched logs make investigations hyper-fast.
Microsoft 365 login from an abnormal geolocation
Internal email with malicious attachment sent via Exchange Online
Abnormal access to internal file shares
Data exfiltration via DNS tunneling
How it works
Varonis uses APIs to connect to Microsoft 365 and put cloud risk in context with your on-prem systems to give you a complete picture of risk and richer threat models.
Monitor critical data where it lives.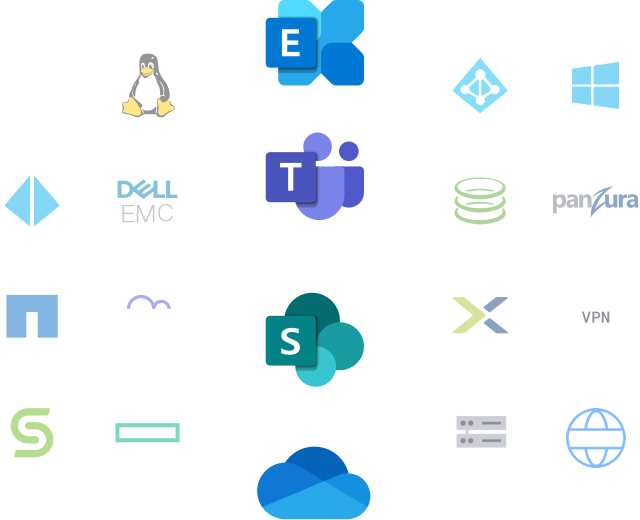 Analyze the right signals.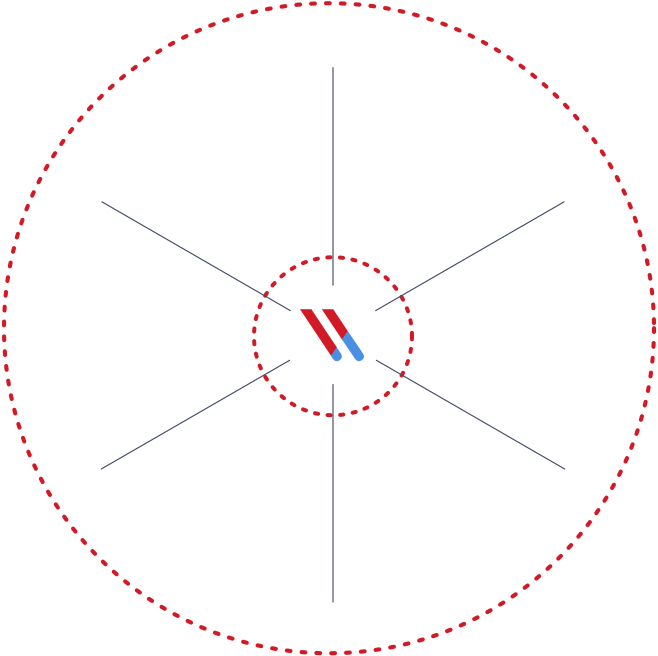 Unleash automation. Monitor critical data where it lives.
Analyze the right signals.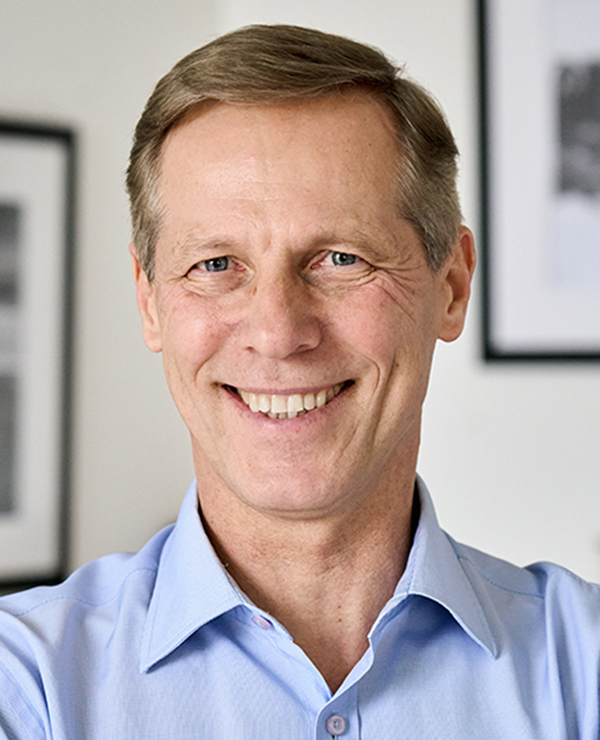 Key features
---
Hybrid visibility and control
See data sensitivity, activity, and permissions across cloud and on-premises systems in a single view. Define and enforce data security policies uniformly across all your apps and data stores.
---
Centralized admin console
Instead of dozens of siloed admin portals, Varonis offers a unified interface that helps your team easily understand risk and how to minimize it.
---
Zero Trust enforcement
Varonis helps you visualize, quantify, and reduce collaboration risk in Microsoft 365 by ensuring that only the right people have access to data.
---
Data-centric alerts and forensics
Varonis automatically correlates sensitive data access to other telemetry to build threat models that alert on meaningful deviations and provides forensics that are fast and tell the whole story.
---
---
Accurate classification
Varonis' Data Classification Engine has proven its power alongside MPIP in some of the world's largest Microsoft 365 deployments.
---
Privileged account discovery
Auto-discover executives, service accounts, and admins based on user behavior, group memberships, and other metadata.
---
Pre-defined audit reports
Report on key risk indicators, effective permissions, user & group changes, data usage trends, and more. Run reports on-demand or email them on a schedule.
---
Flexible deployment model
Install Varonis on-premises or in your own cloud using standard computing infrastructure (Windows, SQL, Solr). Our architecture uses distributed collectors that allow you to scale out as your IT infrastructure grows.
---
Explore other Varonis products